Updated UK cycling laws for 2022
Towards the beginning of the year, we spoke about the 2022 Highway Code updates and how that affects cyclists. Because road safety for cyclists is paramount, we're going to update you on the latest UK cycling laws for 2022.
Highwaycodeuk is a hub of information relating to all matters highway code – even for cyclists. We've taken precisely what you need to know and shared it with you here.
Basic legal requirements for cyclists
Did you know that there are a number of legal requirements cyclists (including those on eBikes) need to adhere to in order to be road safe and legal? Here's a simple breakdown of the legal requirements for cyclists.
These laws are applicable to both regular bikes and electric bikes that are ridden on the road. To learn more about eBike-specific laws, read our eBike law guide.
Bike brakes law
All bikes ridden on the road will legally require two breaks that operate efficiently and independently of each other. This means the front wheel and back wheel need to be able to break one at a time and provide an appropriate amount of braking power.
Bike lights law
You legally need to have a visible and approved rear red light and front white light when riding between sunset and sunrise. There is no legal light requirement during the daytime however, you may choose to use them if there is low visibility on the roads such as thick fog.
Bike reflectors law
Like lights, the legal requirements for bike reflectors are only necessary between sunset and sunrise. You will be required to have four amber pedal reflectors on the front and rear of each pedal as well as a red rear reflector.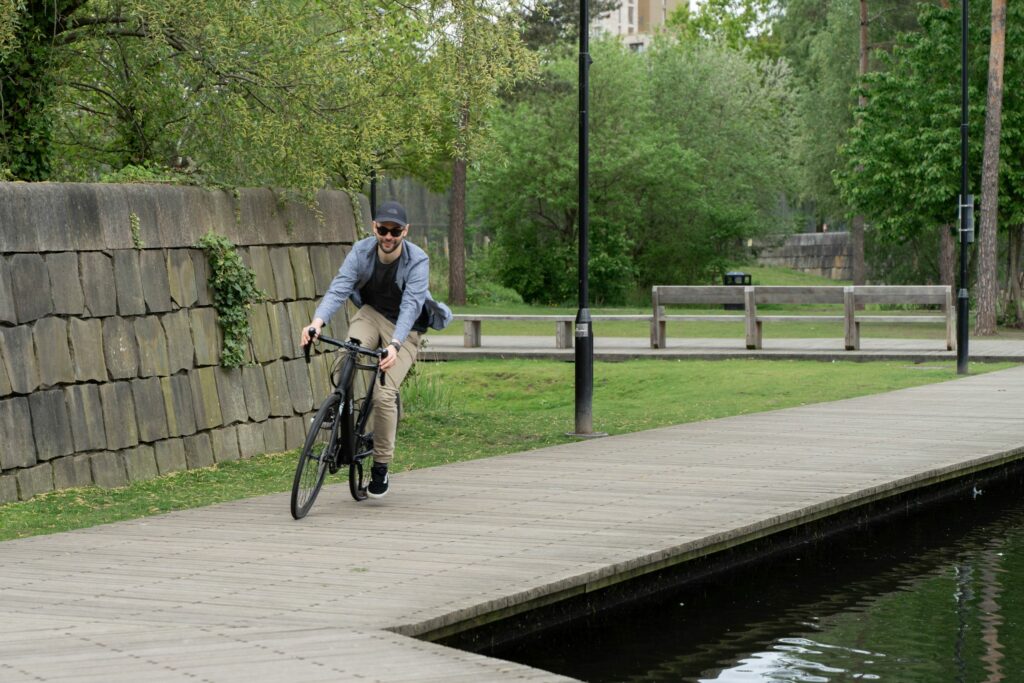 What cyclists can and can't do on the road
What cyclists can and can't do aren't always clear, and some people have their own opinions on the matter. Rather than taking your daring cyclist friend's advice, here are some of the most common (and important) questions cyclists answered.
We touch on cyclists' responsibilities when on the road, what can and cannot be done when driving on the road in the UK and where you can and cannot ride.
Do you need a licence to ride an electric bicycle in the UK?
Electric bike riders do not need a license to ride on the road within the UK. That's one reason why many people choose bikes as their main means of transport over cars! Because eBikes and hybrid electric bikes are legally required to be pedal-assisted in the UK, meaning they do not use a throttle to induce power, this means they do not need a license.
Do cyclists have to stop at red traffic lights?
Yes, cyclists (including those on eBikes) are required to stop at a red stop light. Running a red light is a traffic offence that can result in a fixed fine of £50. And above all, it's incredibly dangerous to run a red light. Traffic signalling is used to manage traffic and provide safety to all road users, and choosing to not stop can lead to injury or death to yourself and other road users.
Are cyclists allowed on dual carriageways?
Cyclists and eBike riders are allowed on dual carriageways, although we wouldn't recommend it. It can be rather scary!
Can cyclists use A roads?
A road can be used by cyclists so long as there is no signage indicating otherwise.
Can you use your mobile phone while cycling?
This is a common question that stems from the motorist law stating that those operating a vehicle cannot legally use a mobile device – this includes calls, texts and skipping your favourite tune or adjusting your map settings.
Because eBikes and regular bicycles do not have motorised engines, they are exempt from this law. However, we would recommend you do not use a mobile device whilst riding as this can result in injury. Do as you feel safe.
Can you drink alcohol and cycle?
Riding your bike whilst intoxicated and under the influence of drink or drugs is against the law and can land you a hefty £2,500. Maybe book a taxi or go on foot if you want to pop to your local for a few drinks.
Can cyclists ride in the middle of the lane?
As a cyclist, you can ride in the middle of the lane, and it's actually encouraged. Riding in the middle of the lane is the safest place to cycle when on the road as it means you can be easily seen by other road users and keeps you away from drains and curbs and pedestrians.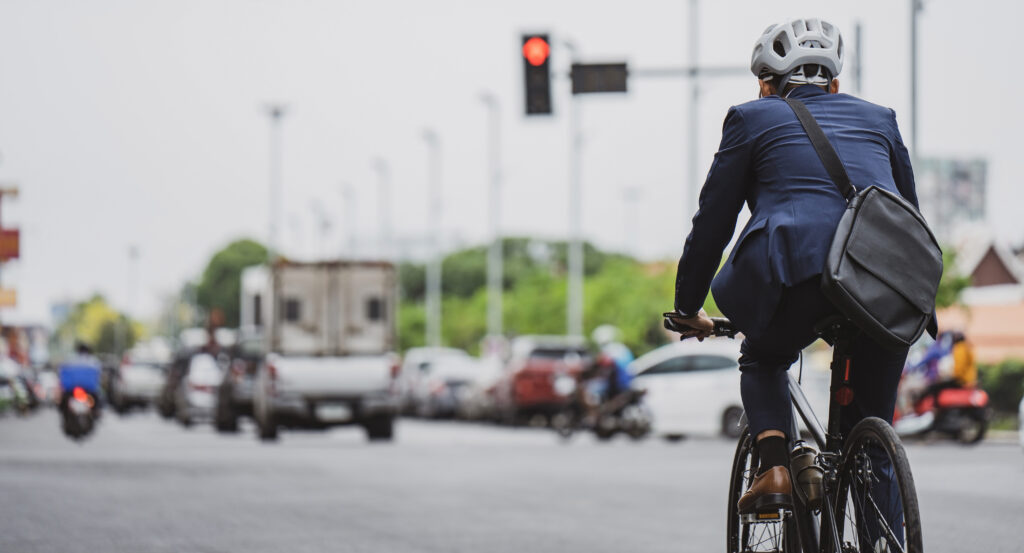 Is it illegal to cycle on an eBike without a helmet?
A helmet is not a legal requirement in the UK however we strongly encourage you to wear a helmet when cycling anywhere. Helmets provide you with a great sense of protection should you fall off your bike.
Can eBikes use pedestrian and cycle lanes?
Electric bikes and regular bikes can use pedestrian and cycle lanes (the cycle lanes that are shared with a pedestrian lane) however there is no legal requirement to use them if you prefer to be on the road. Just be mindful of pedestrians and other cyclists and ensure to give plenty of room and time for others.
Begin your eBike journey
If you can't tell, we absolutely love eBikes and would love for you to start your eBike experience! Whether you choose to ride on the road with the Avaris 3.6 Road eBike or prefer going on the dirt trails with the all-new Avaris Odysey Electric Mountain Bike, we've got the perfect eBike for you.