Avaris Odysey Electric Mountain Bike
Unleash the adventure-seeker within with the all-new Avaris Odysey Electric Mountain Bike. Combining sleek and versatile design with high-tech features and components, the Avaris eMTB gives you the power to ride for longer than ever before.
The Odysey's powerful Bafang M400 drive system with 250W power output, 80 Nm of torque and an impressive 720Whr battery gives up to 180Km distance on a single charge, giving riders support when needed most.
And with the reactive Shimano MT200 Brake Lever, Hydraulic Disc Brake Callipers and Shimano Altus x9 Speed Shifter Groupset you'll have the ultimate level of control on even the most unforgiving terrain.
Completed with a lightweight frame and chunky Kenda 29" tyres, the Avaris Odysey Mountain eBike offers a smooth riding experience and grips the terrain with ease so you can test the limits with each adventure.
Experience the power of the Avaris Odysey
Designed for first-time riders and adrenaline junkies, the Avaris Odysey Electric Mountain Bike has the power, speed and control thrill seekers need to zip around mountain bike trails.
Adding high-spec features, required to handle tight corners, all terrains and demanding hills effortlessly. With 5 levels of electric-powered assistance, an impressive 720Whr Bafang drive system and SR Suntour forks give the smoothest ride, whilst allowing you to go longer than before.
Bafang M400 Mid-Drive Unit
Lightweight, powerful and extremely durable, the M400 drive system with 250W rated power output and 80Nm of torque weighs just 3.9kg, making it perfectly adapted for the needs of roads, trails and off-road riding.
The Bafang M400 Mid-Drive Unit consistently provides riders with harmonious and dependable support when needed, with 80Nm of torque available across five assistance settings, steep inclines and long tours become a manageable treat.
Our motor is one of the most powerful out there and combined with the battery to offer 720Whr, it offers the possibility of the below distances for each range setting.
Assist Level 1 = 180Km
Assist Level 2 = 150Km
Assist Level  3 = 130Km
Assist Level  4 = 110Km
Assist Level  5 = 90Km
Please note with the correct ride management and route planning, these are the maximum distances you can cover. The actual range depends on several factors including weight, elevation, terrain and acceleration.

SR Suntour X1 29" 120mm Forks
SR Suntour provides suspension forks that make a difference for millions of people all over the world. The X1 model is designed to take on the rigorous requirements associated with cross-country riding.
With 120mm of travel and a separate lock-out and dampening adjuster function, the SR Suntour X1 fork can be set accordingly, so that you get both the comfort and control needed on all terrain types.
Bafang Colour Display
Bafang is an ideal companion no matter your ride style, and with USB connection options, you can sync up your mobile devices for a seamless experience. The large high-contrast colour matrix display delivers all important data at a glance such as speed, average speed, assist level selected, total distance, trip distance, option to choose between Km and miles, current time, battery capacity indicator in percentage, calorie counter, likely remaining distance on battery per assist level, voltage indicator and also a walking mode option.
The display also has an automatic night vision sensor when required and the display angle can be moved to fit your ideal position. Its remote control is extremely robust as well as easy and intuitive to use.
Shimano Altus x9 Speed Groupset and Speedshifter
The new Altus M2000 series is designed and built specifically to support first-time off-road experiences. The Altus series comes with various features, providing superb bike geometry for good manoeuvrability and stress-free shifting operation.
Shimano's Altus SL-M2010-R Rapidfire shift lever is built for quick shifting, providing riders with the ability to downshift three gears in one stroke. With an optical gear display, the Altus x9 Speed shifter clearly shows you which gear position is selected whilst riding your bicycle, providing you with clear information and more control on all types of terrains.
Shimano MT200 Brake Lever and Hydraulic Disc Brake Callipers
Shimano 2 piston hydraulic disc brake callipers and levers that have been specifically designed for off-road riding, providing braking power tuned for entry-level riders and an adjustable lever reach designed for all sizes of hands. When you pull on a disc brake-equipped lever, the braking force is much more consistent.
This reliability allows you to accurately judge how much force you need to apply to achieve the expected result, allowing you to concentrate more on your movement and performance. The Shimano Altus MT200 series provides excellent comfort and control on all terrains and in all weathers.
Kenda 29"x2.20" Tyres
Kenda's 29"x2.20" tyres offer a massive amount of grip and control on all terrains, both on the straights and in the turns.
Cornering knobs are positioned far down the tyre wall, providing you with the reassurance needed to really test the limits. The large 29" tyre also makes riding over obstacles easier, providing a smoother & easier ride.
Gear Sensor and Inline Gear Cable Sensor
This unique system developed and made in the Czech Republic is based on intelligent gear sensor technology fixed on the shifting cable, which cuts off the motor drive when the rider activates gear shifting.
This brand-new technical solution eliminates user-unfriendly and noisy rear derailleur shifting which is caused by chain overstraining. The Gear Sensor system in combination with the front derailleur and the internal gear hubs allows perfect shifting performance.
The inline gear cable sensor works to keep in sync with the electrical assistance being provided by the drive unit and the mechanical gear that is being selected by the rider. This means that the gear changing process will work as smoothly as possible, whilst putting less stress on the mechanical gear shifting components, thus prolonging drivetrain life.
FRAME & FORK = 3 YEARS
BAFANG MOTOR = 2 YEARS
SAMSUNG BATTERY = 1 YEAR
CONTROLLER, CHARGER, DISPLAY & SENSOR = 1 YEAR
ALL SHIMANO PARTS = 1 YEAR
This warranty does not apply in any case to damage or defects derived from negligent use of the bicycle, the mounting of other non-original accessories not supplied or mounted by the factory, or any inappropriate manipulation or maintenance operations by the user or by any third party on their behalf.
Damage from causes other than defects in material. For instance, if damage is caused by crashing your bike, it won't be covered under warranty.Damage to products improperly installed or repaired will also void warranty.
Normal wear and tear. Components may show signs of wear and tear in less than two years depending on amount of use, type of use and other conditions. Some components can be expected to reach the end of their normal lifespan within this time.
| Motor | BAFANG | MM G330.250.C | 29", middle driver motor*36V*250W,W/Controller, speed limit 25km/h | alloy |
| --- | --- | --- | --- | --- |
| SUS Fork | SUNTOUR | SF22-X1-COIL-LOR-DS-29 | 29"SUS fork, travel:120mm, hydraulic lockout | Alloy |
| Frame | Avaris | TA29432DMD007 | 29"x17"& 19" Center motor, | Alloy |
| Rear Derailleur | Shimano | ARDM370SGSLC | | Steel/Alloy |
| Front Brake | Shimano | AMT200KRF9RX080 | M6*20mm screw, cable length 850mm | Alloy |
| R Brake | Shimano | AMT200JLR9RX155 | M6*20L, Cable length 1550mm | Alloy |
| Tire | KENDA | K1080 | MTB 29*2.2, 30TPI | 30TPI |
| Inner Tube | KENDA | 29*2.2 | 29*2.2, H=40mm | Butyl |
| Righ Grip Shifter | Shimano | ASLM20109RC | shifing lever 9, | PVC |
| Battery | PHYLION BATTERY | GX-20 | 36V,20AH, Samsung, 5AH | PVC |
| Freewheel | Shimano | ACSHG2009136 | 9 piece, 11-36T,Cassette sprocket | Steel |
| Stem | Avaris | MD-HS030 | Combined,with stem 28.6mm,Ext70mm | alloy |
| Handlebar | Avaris | | length:235mm | alloy |
| Chain | KMC | X9E NP/NP | 9-speed | Steel |
| Front Hub | NOVATEC | D761DSE | With M9 Axle*100mm*108mm, | Alloy |
| Display | BAFANG-GW | DP C18.CAN | With headlight switch,3 6V, Waterproof, | PVC |
| GearSensor | GearSensor | GS-D | length 1000mm, Installed at the handlebar | PVC |
| Saddle | VADER | VD-1138G | | |
| Seat Post | Avaris | | 30.4mmx300mm | Alloy |
Odysey Size Guide

Medium Frame (43cm)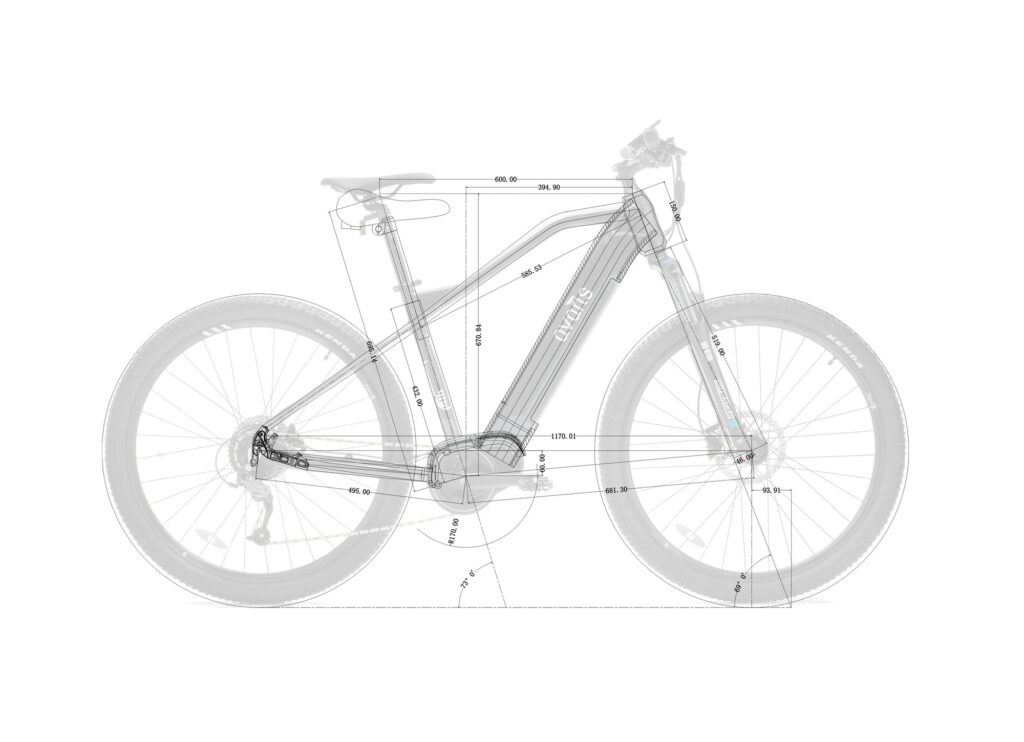 Large Frame  (48cm)