Types of mountain biking
If you've recently had a thirst for mountain biking, or you're already a seasoned biker looking to learn more, then we have you covered. Today we will be discussing the different types of mountain biking, as there are numerous styles many people are not aware off.
Freeriding
To kick off our list, we have arguably the most popular type of mountain biking, freeriding. However, if you aren't aware of this style of biking, then do not worry, we will explain it in its simplest form. Freeriding allows a biker to express themselves and be creative whilst riding their bike, showcasing their skills and travelling from one obstacle to another smoothly without hesitation or worry.
A freeriding bike is typically lightweight with less suspension to allow the biker more stability as they ride the bike through difficult terrain. There are many freeriding mountain bikes you could use to navigate tough areas, but you can't look further than our Avaris Odyssey bike. This eBike is versatile and offers a smooth riding experience thanks to its electric assistance, and combined with innovative technology you can track your rides, and navigate easily.
Once you have decided on your mountain bike, the next step is to decide where to freeride. We can't suggest Coed y Brenin enough, as it's full of amazing singletrack routes you can venture on which is perfect for all riders of any biking ability. The tracks have been built to support all weather conditions, so if you're up for a freeriding challenge we encourage you to take on one of their most daunting tracks.
Also, another great place you can go for freeriding is Grizedale in the Lake District. As well as containing great areas for you to freeride, you're accompanied by stunning scenic views of the Lake District, which is guaranteed to make your experience much better. If you're looking for a mountain bike trail to embark on this winter, check one of our previous articles here for more information.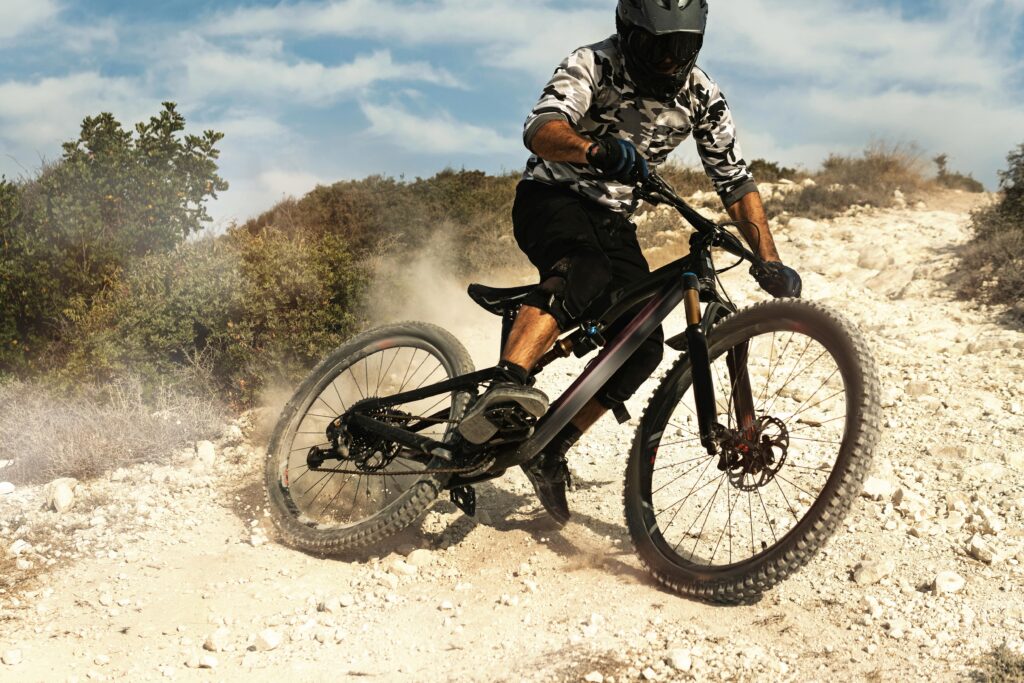 Downhill
Next on our list, we have downhill mountain biking which is arguably the most daunting. This type of mountain biking is ideal for advanced-level bikers who have a need for speed, and want to break the biking boundaries. To start a downhill trail, you will either walk or drive up to the top, and from there you cycle your way down till you reach the bottom. You could also ride your bike to the top, up the trail if you're an experienced rider, or via a more convenient path.
Gravity is your foe (or friend if you're a mountain biking daredevil) here, as you battle down its extreme force with blazing speed. You will experience massive gaps, steep descents and huge jumps on your way down, and the key is to ride as fast as possible. We weren't lying when we said it's the most daunting mountain biking on our list. Before embarking on this treacherous route, we strongly urge caution as it is very dangerous. No beginners or intermediates should consider riding this route – only advanced bikers with previous experience.
So if you are an experienced rider with plenty of downhill experience behind you, you must be wondering, what are the best routes you can take. Well, our particular favourite trail is in Gisburn Forest, Lancashire, as it has two separate downhill tracks which include huge jumps. At the centre, you can hire a bike if you like, and they will be able to recommend the best one for you.
Trail riding
Similar to the previous types of mountain biking on our list, trail riding is a challenging task which focuses on rugged singletracks. Trail riding covers vast terrain, which can prove difficult for inexperienced bikers as you could face tough obstacles on your route. In this case, we can't recommend extra strong tyres, brakes and a suspension enough.

If you've experienced trail riding before, or you're a newbie and it sounds like your cup of tea, we recommend you visit Cannock Chase in Staffordshire. Here you will find a brilliant trail centre which includes bike hire and a shop – it's perfect if you're in need of extra equipment for your journey. There have been recent additions to the trail riding routes, which are guaranteed to make your experience more enjoyable, so keep an eye out for them!
Also, if you're eager to make the most of your time there, we encourage you to check out their famous 'dog trail'. It's ideal for experienced bike riders who are up for a challenge, so if this is you – pop down to Cannock Chase today for the ultimate trail riding experience.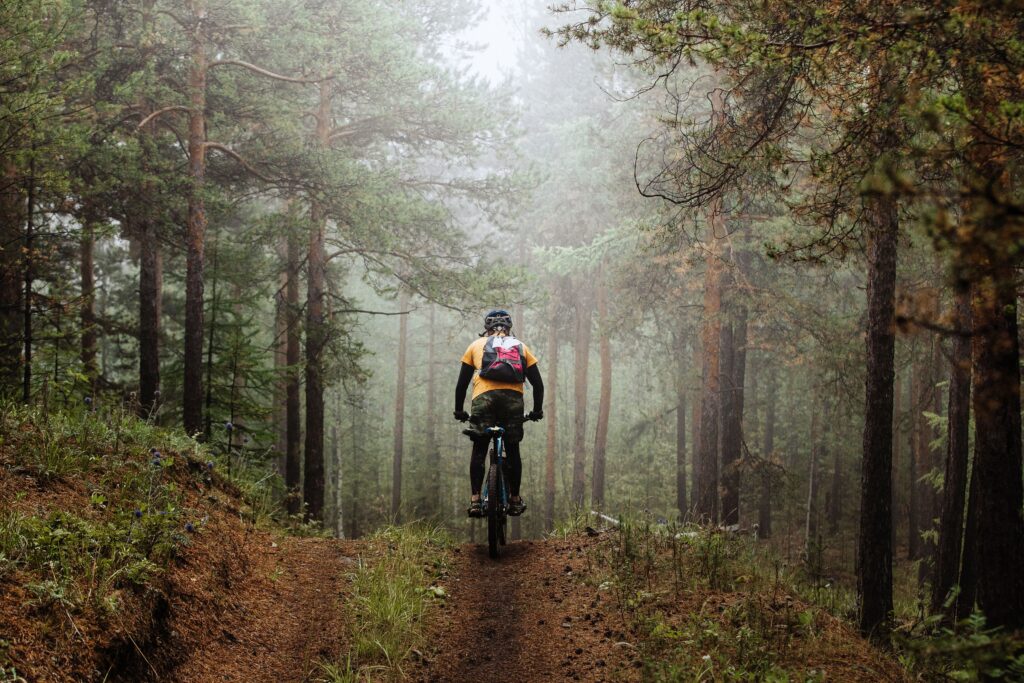 Cross Country
Our final type of mountain biking on our list, and probably our favourite, is cross country (XC). This is the tamer version of trail riding, filled with thrill, adventure and perfect for families with biking experience. You can expect to encounter a mix of terrain along your cross-country journey, but there's no need to worry as this type of mountaineering biking is less competitive compared to the others on our list.
If XC mountain biking appeals to you but you're not sure which type of bike you will need, then we have you covered too. At Avaris, our latest eBike the odyssey electric mountain bike allows you to unleash your inner adventure-seeker within, combining style with high-quality technology. The bike has a lightweight frame, which is the ideal solution for your cross-country trail. No matter where you decide to ride, the eBike is equipped to handle every terrain that crosses it's path.
If this is your chosen vessel for your XC riding experience, next you must decide your destination. Dalby Forest in Scarborough, is our recommendation to you, as it's suitable for all riding abilities and the trails on offer are of the highest quality. The centre includes activities for all the family, so if some members of your party aren't interested in a cross-country ride, they have a go-ape course and an adventure playground.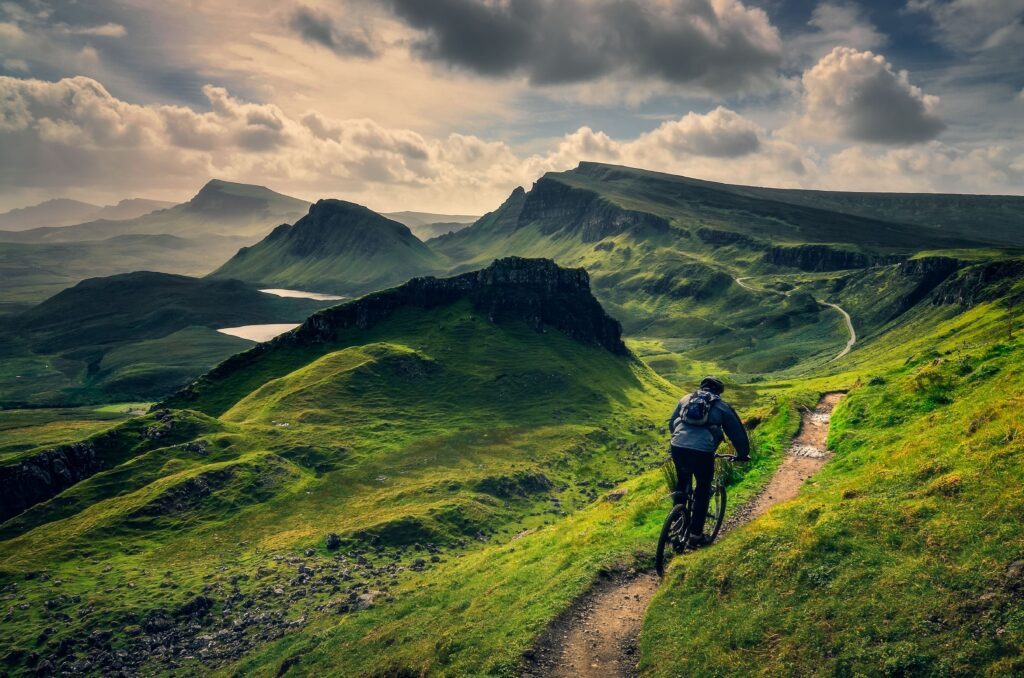 We hope you enjoyed reading our latest article on the different types of mountain biking. If you would like to know more information on one of the subjects, or you're after a new mountain bike. Get in touch with our team today and they will provide you with everything you need to know.