Top 5 steepest cycling climbs in the UK
Thrill seekers and mountain bikers – this one is for you! The UK is full of steep inclines perfect for people looking to push their limits on two wheels.
How to prepare for challenging climbs
As the famous saying goes, you are preparing to fail by failing to prepare, so make sure you're fully equipped before setting off on your great climb to the top. Not only will you need to ensure you're stocked with first aid equipment, hydration and snacks, but you'll also need to make sure your bike is in tip-top condition.
Striking a balance between "too much stuff" and "not quite enough" can be hard, so here are our must-haves and must-dos.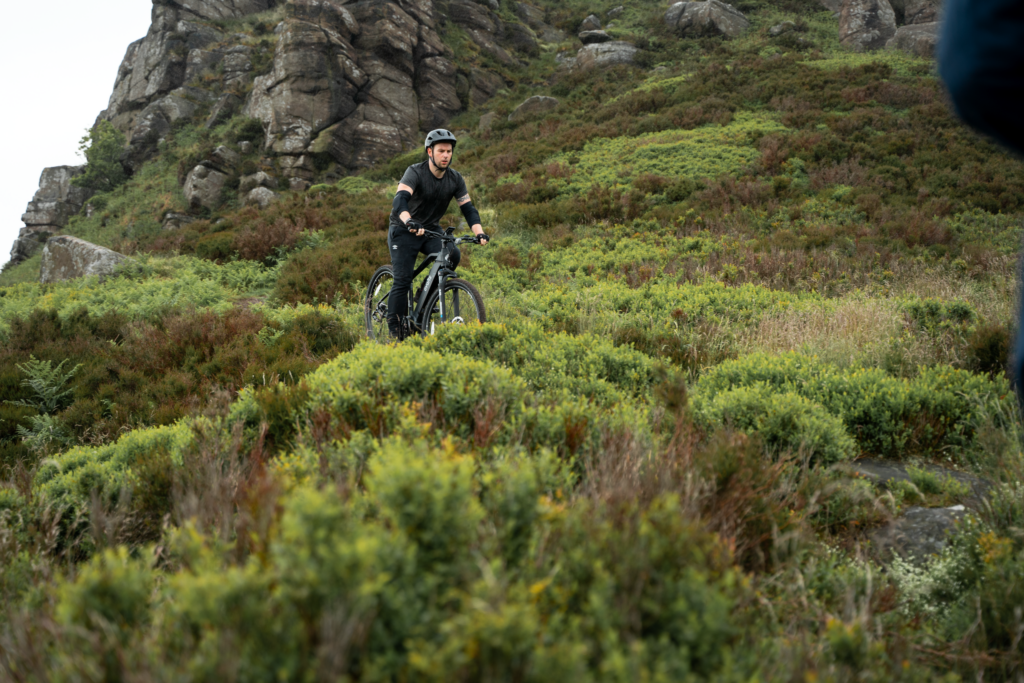 Bike accessories for climbing
You don't need an awful lot to ensure you're ready for your incline to the top, but what you do need is important. We recommend always packing a travel-sized emergency first aid kit in case of any minor incidents or accidents – you can never be too safe!
Of course, you must take something to hydrate with – whether you choose plain water or water with added electrolytes, hydration is going to be key when facing these challenging hills. And if you think you'll need it, a snack is always nice. We recommend dried fruit bars such as these by Frutina as they're slim and easy to pack, tasty and will give you a natural sugar boost.
And you'll need everything to pack it in, and for climbs such as these, we prefer a handlebar bag. Opting for a handlebar bag rather than a backpack will allow you to feel freer and explore movements as you need to, helping you climb to the top.
Last and certainly not least, you'll certainly want to pack a spare eBike battery for the journey! Although our batteries last hours on one charge, with such challenging hills you may find yourself needing to swap your battery out sooner than expected.
Interested in learning more about eBike accessories? Click here to hear about our 5 must-have eBike accessories.
eBike health check
Before you set off on your two wheels, make sure you're safe to go! Doing a health check on your eBike can prevent you from coming across unexpected hurdles that end up hindering your cycling experience.
The M check is a common and complete method for checking the health of your bike. It covers the wheels, spokes and tyres; it checks the breaks and handlebars, as well as the pedals and more.
Learn how to do a complete M check on your bike in the video below.
Trooper Lane, Yorkshire
You'd have to be a trooper to take on this short, steep, cobblestone lane! Trooper Lane is based in Halifax and has been recognised by cyclists to be one of the UK's most challenging roads to ride. This 0.4 mile road has an average gradient of 18% meaning you gain a height of 123 metres.
This road is not only a challenge due to its incline, but also because of its cobblestone paving. Cobbles are notorious for their difficulty to climb and add an unexpected twist to this otherwise (somewhat) manageable climb.
We suggest keeping a lower gear, and if you're combating the climb on an electric bike, we also recommend using a medium level of assist for that extra boost. However, do what feels comfortable for you during the climb
Trooper Lane cycling stats
Distance: 0.5 miles
Average gradient: 18%
Height gain: 123 metres
Location: Halifax, Yorkshire
Hardknott Pass, Lake District
Hardknott Pass may be a hard pass for some, but for others, it's an exhilarating challenge that's begging to be taken on. Known for its breathtaking scenery and even more breathtaking hills, Hardknott Pass is located towards the centre of the Lake District surrounded by rolling hills and luscious greenery.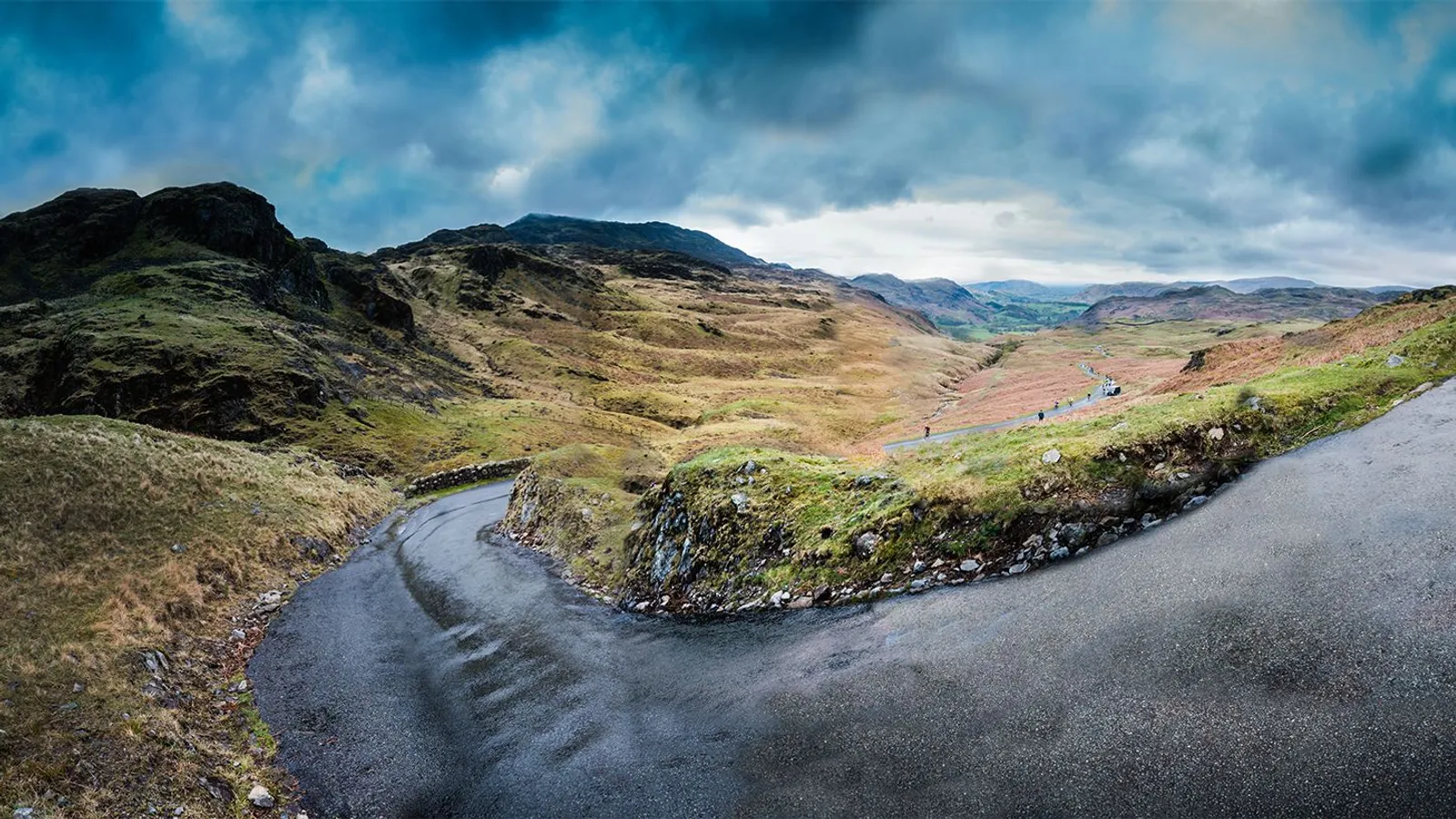 You'll be thankful for eBike assistance on this road. With an average gradient of 13% and a maximum gradient of 33%, even the most seasoned cyclists will feel the burn on this 1.3 mile route.
If you're into your photography, be sure to take some snaps on your incline to the top – you won't want to forget the beautiful sights that Hardknott Pass has to offer.
Hardknott Pass cycling stats
Distance: 1.3 miles
Average gradient: 13%
Height gain: 293 metres
Location: Lake District
Wrynose Pass, Lake District
Located close to Hardknott Pass, Wrynose Pass is like the little sister of Hardknott. Don't be fooled by the ever so slightly softer inclines of Wrynrose; this cycle route is still a challenge to even the most seasoned cyclists. With an average gradient of 11% across 1.6 miles, you're certain to feel the burn.
Whether you drop to the lowest gear and kick in the assisted power or hop off your bike and walk on the steepest parts of the climb, remember to take it easy and break when you feel necessary!
This climb is chock full of dramatic inclines and winding hairpin roads, but once you reach the top (and during your climb), you'll be amazed by the mountainous views and rolling green hills – season dependent of course!
Wrynose Pass cycling stats:
Distance: 1.6 miles
Average gradient: 11%
Height gain: 279 metres
Location: Lake District
Fford Penllech, Wales
Everyone knows Snowdonia as the highest peak in Wales, with a whopping elevation of 3,560 feet (0.6 miles) and is commonly referred to as a "hard, strenuous walk" to the top. Fford Penllech is a public road located in Snowdonia, Wales and is considered the steepest street in the world.
Taking this road head-on isn't for the faint of heart. So far, this is the steepest climb we've mentioned, and of course like the others, we recommend you keep your gears low, power assistance on and eyes on the prize!
This eye-watering hill is home to one of the UK hill climb races. Every August, enthusiastic cyclists across the UK gather to race up the hill in the shortest time.
Fford Penllech cycling stats:
Distance: 0.2 miles
Average gradient: 17%
Height gain: 54 metres
Location: Snowdonia
Buttertubs Pass, Yorkshire
Once featured on the Tour De France, the Buttertubs Pass route is one of the best-known climbs in Yorkshire. No matter which direction you take the climb, you'll be greeted by unbeatable views of the Yorkshire countryside, and with a tiring maximum gradient of 18%, you have plenty of reason to stop and enjoy the scenery.
Buttertubs Pass is one of Yorkshire's most satisfying and challenging climbs, so don't underestimate the power and endurance you'll need to complete this route. The Avaris mountain eBike can give you an added boost, helping you reach the top regardless of your fitness or ability.
Buttertubs Pass cycling stats:
Distance: 2.3 miles
Average gradient: 7%
Height gain: 250 metres
Location: Yorkshire
A mountain eBike to help with the climb
You may be wondering "can eBikes go up steep hills?" and the answer is yes! Not only can they ease the burn, they help you build your confidence and ability no matter the level of assistance you choose. Electric bikes are a great option for both beginners and seasoned cyclists, and ours are perfectly designed for both.
Whether you're a pro cyclist or just dipping your toe into the cycling world, our electric bike can benefit you. Learn about the benefits of eBikes or learn more about our high powered electric bikes.