Tips for safe cycling in the city
With the rising transport costs, unpredictable railway strikes and increasing petrol prices, more people are looking for alternative ways to travel to work. This has led many commuters to opt for two-wheeled transport over their usual method.
Tips for cycling in traffic
Cities are known for their hustle and bustle; on the streets and the roads, day and night. This can be a navigation nightmare for inexperienced cyclists who travel to work on their road eBikes. Even those with experience in road cycling can find themselves overwhelmed when riding through high-traffic areas at peak times.
Follow these simple tips to ensure you're doing all you can to protect yourself and others whilst cycling on the road.
Remain vigilant at all times
You can never completely eliminate risk when travelling on the road on an eBike however staying vigilant throughout your journey will help keep you and others around you safe. Being road aware is an invaluable skill that develops with experience and will allow you to react appropriately when potential danger occurs.
Being road aware means being alert to potential dangers and risks including:
Potholes
Puddles which often conceal potholes
Loose road surfaces
Pedestrians and unleashed animals
Parked vehicles
Having an awareness of your surroundings allows you to make calculated decisions based on your environment and reduce abrupt movements that other road users may not anticipate. This helps you keep yourself safe as well as others.
Optimal road positioning
Where you place yourself on the road is just as important as how you cycle when riding on the road. In the 2022 Highway Code update, it was stated that cyclists can now ride in the middle of the lane to enhance visibility for motor vehicles. Riding in the centre of the road can also help you steer clear of potholes, drains and debris on the sides of the road, making you a steadier rider who is less likely to make sudden swerves in order to avoid obstacles.
Positioning yourself further from the pavement can also deter motorists from overtaking you when it's not safe to do so, for example when there is oncoming traffic ahead, traffic calming features such as speed ramps and chicanes.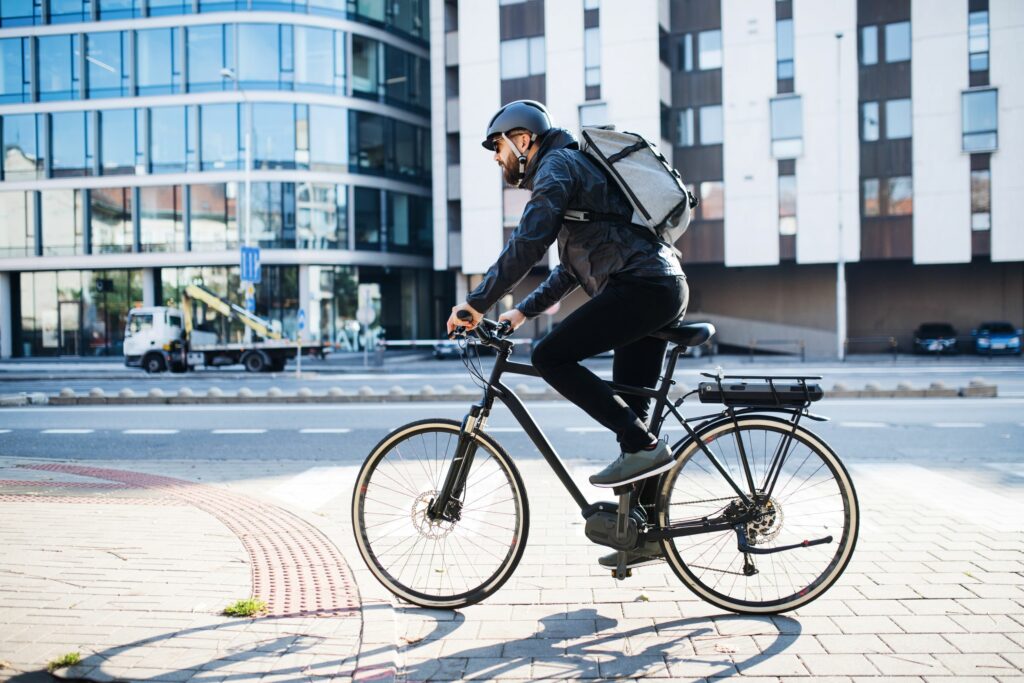 Clear indications
Giving clear signals to other road users is the best way to communicate your intentions whilst riding your eBike on the road. If you're unsure about how to give clear hand signals and to ride safely when on the road, then make sure you attend a road safety course before you consider riding on the road.
Checking over your shoulder, giving clear hand signals communicating your next manoeuvre and using eye contact where appropriate will help your fellow road users know what your next move is and where you intend on going, keeping you and everyone else safe.
Be mindful of blind spots
You're likely to come across lorries and large vehicles when cycling through urban areas and it's crucial to your safety that you know how to navigate and undertake these vehicles when needed. For the majority of lorries, their blind spot is on their left side which is typically where cyclists are positioned on the road. This means that the driver may not see you should you choose to undertake them which can put you in serious danger.
When approaching lorries, be particularly cautious and never assume the driver has seen you or will indicate their next move. Avoid undertaking them where possible and if a lorry begins to overtake you and stops moving before completing the overtake, aim to safely position yourself back in front of the lorry and do your best to be as visible to the driver as possible.
All vehicles have blind spots however, those who drive cars are more able to check their blindspots before manoeuvring. Although this is true, never assume a driver has seen you. Practising diligent risk assessment before undertaking vehicles is important for staying safe on the road.
Always be ready to break
Much like practising diligence when moving with traffic, it's important to ensure you're alert and aware of your surroundings and potential hazards when cycling alongside stationary cars and where there are pedestrians. Always cycle with your hands over the break so you can react to sudden hazards as they happen to avoid a collision.
When cycling past stationary cars, be aware of opening doors. Motorists who have recently parked are hard to spot and may not check if it's safe to open their door prior to swinging it open and exiting their vehicle. Remaining vigilant and positioning yourself in the centre of the road can help you avoid being surprised by a swinging door.
Motorists are encouraged to use the Dutch Reach method when opening car doors once stationary. This method requires the driver to open the door with their left hand when exiting from the drivers side which naturally causes them to glance over their right shoulder before opening the door. This creates a habit of checking for cyclists before opening the door. A large majority of drivers are taught this method when learning to drive. Learn more about the Dutch Reach in this video.
Keeping your hand over the break whilst riding is good to practise no matter where you ride. Everything can be a risk when cycling, from unleashed pets to pedestrians who aren't looking where they're walking and rouge footballs. 
Road safety accessories
Ensuring you're implementing road-safe cycling methods will get you far when it comes to staying safe but there are some must-have accessories that all riders should get when cycling in the city.
High-visibility clothing
It's not necessary to wear high-vis clothing at all times, but it is important to wear it when visibility is low. High-vis clothing reflects light and makes you more visible to motorists and to those with flashlights.
They're inexpensive and accessible in a majority of motoring and cyclings shops, including Halfords and on Amazon.
Additional reflectors
You legally need a minimum of a red rear reflector fitted on your electric bike to be road legal, however, adding additional reflectors and lights can help you be more visible when riding at night in the city.
Most people will also have a white front reflector fitted on their bike, and some opt to have reflectors attached to the back of their helmet, on the spokes of their wheels and on the rear of their peddles.
High-quality helmet
A good quality, sturdy and well-fitted helmet is a cyclist's best friend when it comes to any sort of cycling. Wearing a helmet is not a legal requirement but it will prevent your head from serious, life-threatening injuries should an accident ever happen.
Ensure the helmet is correctly fitting, with little wiggle room and protects the front of the head sufficiently. You can check the fitting in your local Halfords store.
Safe cycling routes in Manchester
Manchester is a beautiful and bustling city rich in culture, history and urban beauty. Amongst the hustle and bustle, there are dedicated cycling routes within the city that take you past iconic landmarks and breathtaking city scenes.
This cycleway boasts 18km of traffic-free cycling, with links from Altrincham straight into Manchester city centre. With a 40-minute cycle from Broadheath to Trafford Park and a 20-minute cycle from Trafford Park to the city centre, this is a great route for people cycling from the city outskirts.
The Ashton Canal Cycleway includes 10km of traffic-free canal-side cycling, taking you from Ashton-under-Lyne to Manchester city centre in 40-minutes. This route is a peaceful, solar-powered light-studded cycling route recommended for those looking to safely go from A to B within the city.
Broughton Cycleway provides cyclists with 2km of separated-from-traffic cycling in both directions and can get you from Broughton to Manchester city centre in 10-minutes. This cycleway is the city's longest 'light segregation' route, protecting cyclings from other road traffic.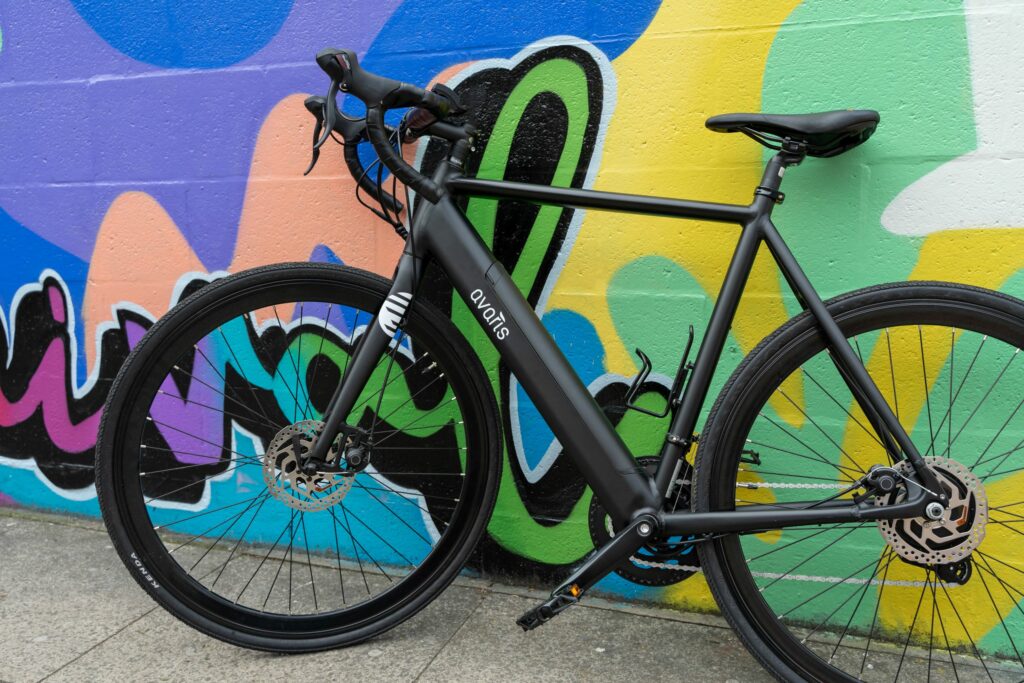 Cycle to work with an electric road bike
Did you know that you don't have to use a manual bike for a cycle-to-work scheme? Our electric road bikes are eligible for the cycle-to-work scheme.
Using an electric bike has many benefits, but most importantly can get you from A to B faster and easier, without compromising your workout, than a manual bike meaning you're not so exhausted when you get to work.
Learn more about our cycle-to-work scheme or browse our road eBikes today.