Upcoming UK cycling events
Cycling events are great for meeting new people, discovering new trials and places to adventure, and even learning a thing or two about bike care, bike safety or some new riding tips!
The UK is full of amazing cyclings events in the North, South and everywhere in between. Whether you're new to cycling or a seasoned cyclist, there are so many events to choose from for you and the family.
Here are the UK cycling events on our radar.
Monsal by Moonlight
The Monsal by Moonlight event is held at Bakewell Station Car Park in the Peak District on Tuesday 8th November 2022. This ride starts at night so be sure to equip yourself with high-vis clothing, lights and reflectors.
The group will be riding for 16m, starting at the Bakewell Station Car Park and passing through the Headstone Tunnel, over the Monsal Head Viaduct, through the Cressbrook Tunnel and over the Millers Dale Viaduct.
There will be a scheduled break where riders can have a snack and a drink under the moonlight. On arrival, riders will be greeted with hot drinks and cake. What more could you want from a late-night group cycle?
Click here for more information and to book.
Sheffield Cycling for All
The Sheffield Cycling for All event runs regularly between Monday 22nd August 2022 and Tuesday, 1st October 2024 – so plenty of opportunities to get involved! The meeting point for this cycling event is at Hillsborough Park, Sheffield S6 2AA and starts at 10:30.
This inclusive event invites riders of all abilities to join them for a social cycle around Hillsborough Park. Led by a qualified and experienced cycle leader with the support of a minimum of two cycling supporters who are able to provide help, advice and assistance throughout the session.
You can choose to book a slot however the hosts say that it's not always necessary – simply show up and join in with the fun!
For more information about the event and to book your slot, click here.
Monday Skills Fun Session
It's Monday Funday for those who take part in the Monday Skills Fun Session at Walsall Rugby Club. This event runs every Monday from the 22nd of August to 10th of October 2022 and is perfect for those who can ride but need a little more confidence when on wheels.
These skill sessions are suitable for children and adults alike and are based on cycle sports coaching, but are applicable to all riders, from beginners to experienced riders. Get involved and learn something new with the Monday Skills Fun Session!
Sunday Club Ride
Lazy like Sunday morning? Not for this enthusiastic group of cyclists! Each Sunday the Sunday Club Riders meet at Curber School at 9 am for a road ride around the local area.
If you want to add a little spice to your Sunday morning routine, check out this Sunday Ride Club. Be sure to stay up to date with the Cycling Weakly website for any changes to the typical riding schedule.
For more information about the ride, click here.
Adult Learn To Ride
Have you always dreamed of riding a bike or are you someone who wants to feel more confident when riding two wheels? The Walsall Bike Project CIC hosts Adult Learn to Ride sessions in the Walsall Arboretum at the Clock Tower.
Learn more about the adults-only bike riding lessons at Walsall Bike Project CIC and keep up to date with the latest events and sessions on their Facebook page.
Click here for more information about the Arboretum Walsall Adult Bike Riding Lessons.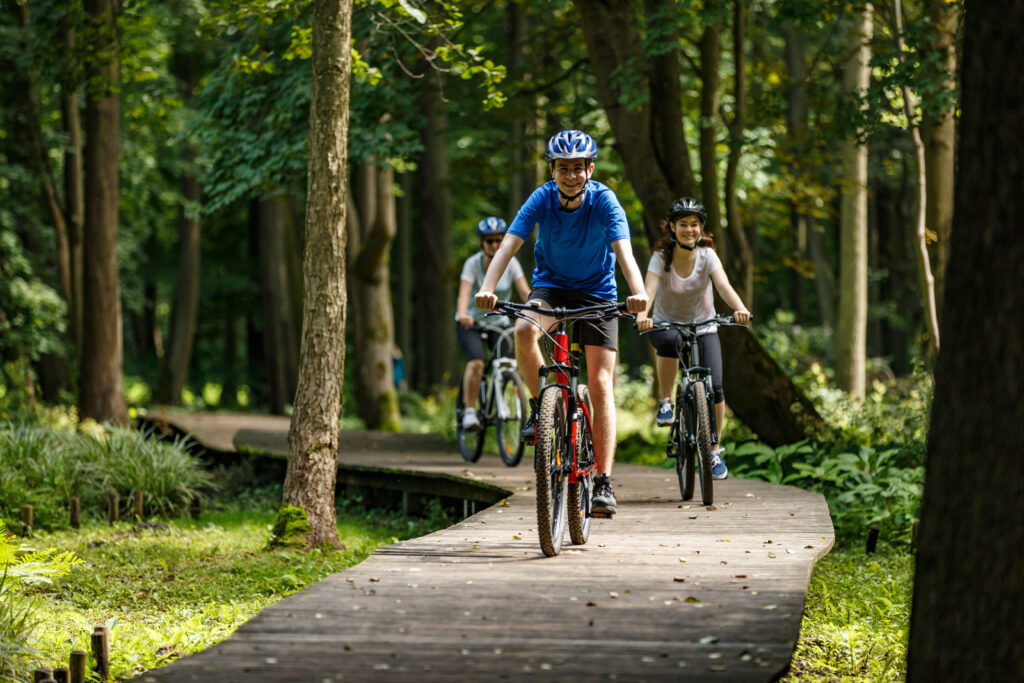 Ripon 50km Standard Ride and 100km Standard Ride
Whether you want to ride 100km or 50km, this pleasant ride is perfect for casual riders and hardcore cyclists looking for a fun morning group ride.
The Ripon 50km Standard Ride and 100km Standard Ride is on Saturday the 17th of September 2022 at 10 am and the group are starting and finishing at the Sun Parlour Cafe in Ripon's Spa Gardens.
The 50km ride uses quiet lanes to Bedale and stops for a lunch stop and then comes back through Snape and Kirklington. The 100km ride passes Masham and Jervaulx Abbey, visiting parts of Wensleydale and Swaledale.
For more information on the Ripon 50km Standard Ride, click here.
For more information on the Ripon 100km Standard Ride, click here.
Friday Pedal around the Park
Fancy a Friday Pedal around the Park? This social cycling event welcomes those who are a little rusty when it comes to riding or needs to brush up on their cycling skills – or simply just want to spend the morning riding around Lightwoods Park.
The Pedal around the Park event runs from September to November 2022 and starts from 11 am. This event also runs on a Tuesday for those unable to attend on Fridays.
Click here for more information about the Friday Pedal around the Park event.
Ride in Style with Avaris eBikes
Discovered an event you'd like to attend? Our electric bikes are perfect for beginner bike riders and season cyclists alike, making leisurely rides a breeze.