Top cycling routes in the UK
From an early age, most children learn to ride a bike and once we have learned – it becomes second nature. As you gradually grow older and become more confident riding a bike, your cycling limits begin to expand, and you develop a thirst of adventure for riding your bike into uncharted territories. So, If you're a bike enthusiast and love cycling adventures then look no further, you're in the right place.
We've handpicked some of our favourite cycling routes in the UK, tried and tested on the Avaris Road eBike. Whether it's some of the best views the country has to offer you're looking for, or a thrill-seeking adventure, we've got something for everyone.
Elan Valley, Wales
If you happen to be on holiday in Wales, or you're just looking for a nice cycle on a Sunday afternoon, then we highly recommend attempting this brilliant cycling route in Elan Valley. During the Summer months it's a great area to cycle as you can enjoy some of the best scenic views Wales has to offer.
Your journey will begin in the quaint area of Cwmdauddwr, where there are plenty of shops you can check out before your cycle commences. We advise you to top-up with plenty of water and a hot drink so you'll be full and ready to go.
Now you're stocked up, your adventure begins. After you have left Cwmdauddwr, the route will take you over the Rhayader tunnel and straight down the Elan Valley trail. At the next junction, you can decide whether or not to drop down to the visitor centre where you can grab a quick drink and rest up, or if you're eager to explore more – then continue along the trail and view the spectacular dams and reservoirs.
Next, the trail climbs steadily from the northern end of Garreg Ddu reservoir, and when you reach this point – the views of the surrounding area and valleys are simply stunning. Once you have made it to this point, you will know why you visited here. If cycling in Elan Valley interests you, then what are you waiting for? Get cycling!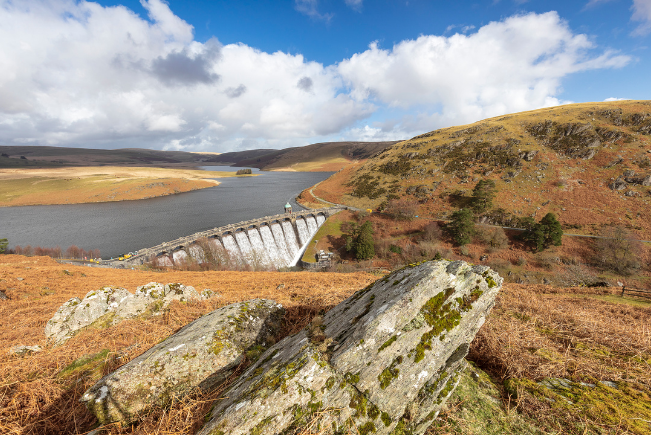 The Lakeland Loop, Lake District
The Lakeland Loop isn't an easy challenge to complete, however, if you're an experienced cyclist and are looking to take the next step – this one's for you. Once voted Britain's best bike ride, this circuit boasts a huge 65km which can seem intimidating at first but once you get going you'll be in a good rhythm to finish it.
The distance might be far, but the views you witness are definitely worth it, as your eyes will be fixed on all of the stunning lakes across the District. The more you cycle along the route, you begin to appreciate the surrounding areas and its hidden beauty, as if it wasn't for mother nature these exquisite landscapes wouldn't exist. The rugged pathways you follow may seem menacing and heart throbbing at times, but once you cycle through, the relief you feel is immense.
We do advise you to take your time and not overestimate the terrain, as depending on the weather the trail can become tricky so make sure you're amongst friends and make plenty of stops to take a break. You will need to conserve as much energy as possible to make it through this gruelling route!
One of my favourite walks for us today – Scafell and Slight Side. Great to see the Lakeland Loop taking place, a welcome return to normality.🚴‍♀️🚴🚴‍♀️🚴🚴‍♀️🚴 pic.twitter.com/19EuI39kwS

— Mrs Walker-214 (@mrs_walker214) April 11, 2021
The Camel Trail, Cornwall
Looking for a cycling route that's fun for everyone? Well, you're in the right place. The Camel trail in Cornwall is an ideal afternoon out for you, especially during summer as you will witness the wonders of the Cornish countryside. It's great for the family to get involved in as the route avoids the majority of traffic and there are plenty of places you can stop off at for food or drink.
The trail you will embark on is a disused railway line that follows the Camel Estuary from Padstow all the way to the enchanted Camel Valley woodland. After this point you will reach Bodmin, where you'll find an award-winning pub to take a break before carrying on your journey. As you further venture deep into the countryside you will also see the wonderful ocean in the distance – on a glorious sunny day the ocean will be crystal clear and it will feel like you're abroad!
This is one of many reasons why we urge you to challenge the Camel Trail in Cornwall. The weather is fabulous during the summer months, great food and drink places, and the bike trail is fun for all the family to enjoy.
The Great Orme, Wales
If you're new to cycling or you're after an easy bike ride for a Sunday afternoon, then we might have the perfect place for you. The Great Orme overlooks the town of Llandudno and on a clear day you will experience some marvellous views. The cycle route is only 5 miles long so it's perfect for beginners but also to enjoy with friends and family if you're looking for a simple bike ride on a weekend.
We recommend you embark on this journey during the summer to experience Lllandudno at its finest, as there are many activities which you can enjoy whilst you're there. But whilst you're there, try to capture as much footage along your bike ride as possible – you don't want to miss the views!
During your ride, we advise you to be careful riding your bike around corners and going up hills, as if you slow down at any point it can become a struggle reaching the top. So, be sure to conserve your energy for when you get to the toughest parts of the route.
Caledonia Way, Scotland
Some cycle routes are different to others and this can be due to a number of reasons. Firstly, some routes are designed to experience the country or seaside life, and others are just to get from one place to another. If you're seeking adventure and are eager to see the unknown, then Caledonia Way might be just what you're after.
Located in Scotland, along this tricky bike ride you will see it all. Stunning landscapes, scenery, cute villages and towns plus much more. Along the route you will pass many Scottish landmarks and historical sites such as Loch Ness and Ben Navis, so if you're seeking a holiday in Wales this could be perfect for you.
To complete the whole route it's a massive 234 miles, however, we don't advise you to complete it all because it's as you can imagine – very long! We suggest you plan your journey well so you begin at different points and pass certain landmarks you wish to see.
West Highland Way #caledonia #alba #Scotland pic.twitter.com/nnnFHbFJ2L

— Newton (@MrNewton74) August 27, 2016
We hope you enjoyed reading our blog on the top cycling routes in the UK! If you decide to challenge any of these routes or have been on them before, then be sure to get in touch to let us know how you got on!
Looking to upgrade your bike? The Avaris Road eBike is a sleek, versatile, lightweight, high-quality electric bike that will transform the way you ride. Click here to find out more.