Mountain bike tips for beginners
Getting into mountain biking can be exciting, confusing and exhilarating, whether you choose to dive in as a serious sport or as a hobby. You can gradually build up your confidence to become a more experienced mountain biker through the correct practices and learning about your mountain bike. Whether you're concerned about tackling tricky terrain, or simply unsure about which mountain bike is best for beginners, we can help you find your feet.
In this blog, we will be giving you the best guidance on how to feel more confident with mountain biking, as well as some tips which can also help you along the way.
Start on beginner routes
As a beginner at mountain biking, it's important to not rush into more intermediate routes and ignore the beginner paths. Being an inexperienced biker, you are more likely to injure yourself on difficult routes, since you may not understand how to handle your bike on various terrains, and won't have the much-needed experience for challenging terrain types.
By starting on paths which are easier to follow, you can learn how your bike rides, in addition to getting used to the feel of the bike. As you learn how to navigate through certain routes on your bike, you will gradually build your confidence for more challenging routes. There's no need to rush learning this sport, and it's best to take your routes as far as what you're comfortable with. This way you can continue to enjoy the sport whilst you learn, rather than injuring yourself and potentially lowering your confidence.
Advancing to harder routes could also detriment any confidence you have built up. By taking things slow and building your way up to more advanced routes, you will get a feel for mountain biking and whether you truly enjoy it or not.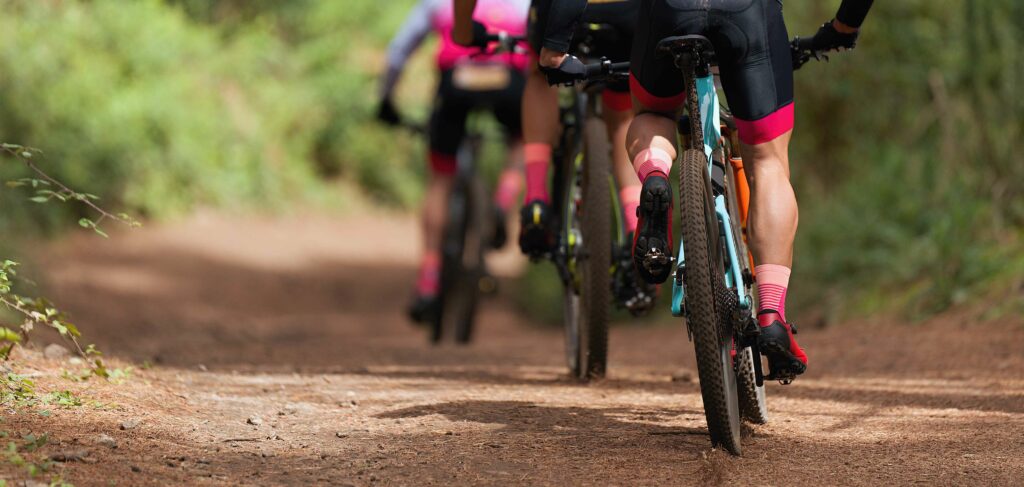 Use your bike to its maximum
After your mountain bike arrives, it is important to ensure all the components are set up correctly and comfortable. These types of small alterations can include:
Changing your saddle height
We recommend that your saddle height allows you to touch the top of the lower pedal with the top of your heel, whilst being able to keep your leg straight. If you find you are beginning to tilt from side to side or struggle to keep upright, your saddle may be too high.
It's important to prioritise your saddle height as it can save you from injuring yourself whilst out on routes. If an incident occurs where you may have to make an abrupt stop, it's highly likely that you will tip over and injure yourself or damage your bike if your saddle is not at the correct height. Remember that your safety and comfort is always your first priority during your bike rides.
Changing the saddle and bar position
Changing the saddle position can make it easier to go on inclines or declines whilst riding a route. If you are wanting to do a lot of inclines and find you are not seated when declining, you can drop the nose on your saddle slightly. With the nose angled down, this will help with efficiency during your cycle up a hill so you do not have to put in too much work and exert an unnecessary amount of energy.
As a learner, you may have routes that don't include a lot of inclines. If this is the case, you may find it easier to leave your saddle in a horizontal position.
Much like the saddle, it is also a priority to place your handlebars in a comfortable position for yourself. If the bar is in a position where you feel uncomfortable and is resulting in you using more energy to have a firm grip, this can affect your safety. If you are over your handlebars this is also a safety concern especially if you have to make a sudden stop as you may go over the bars putting your head at a high risk of getting injured.
A common rule of thumb is that the saddle should be in line with your waist however, this can be down to the rider's preference and anatomy as your torso may not correspond with the length of your arms.
Setting up your gears
Although the specific gears you use depend on the route you are riding through, it is still important to understand how your gears work and to use them to their full potential in order to get the most out of your rides.
Gears will allow you to change the pedalling speed as well as the effort used in pedalling. Whilst out on routes, you should anticipate the terrain before you begin an incline or decline, as you want to change gears just beforehand, not during the change. If you are approaching a hill incline, you'll want to start decreasing your gears to help you produce more energy from the bike to go up. However, if you are declining you will require less energy and move up your gears.
Consider an electric mountain bike for your first purchase
If you've not done much riding before, it would be a good idea to consider an electric mountain bike. You can save yourself a lot of energy and build up your strength and confidence at a pace much more suited to you.
When going up large inclines, you gain extra assistance through the electric assist, yet this is something optional and you can always begin to lessen this assist as you get used to the routes and your bike. As a first-time mountain biker, or if you've not been doing regular fitness, you may feel the physical strain but this is just because mountain biking demands more mental and physical energy, especially when navigating through different terrains.
You'll often find yourself pushing yourself to finish routes as a beginner. An electrically assisted mountain bike can help take the pressure off the amount of energy you have to exert and you may find learning the sport more enjoyable with electrical assistance.
Here at Avaris, we now sell electric mountain bikes. Click the link to learn more about our lightweight and powerful bikes which have been specifically adapted for off-road riding.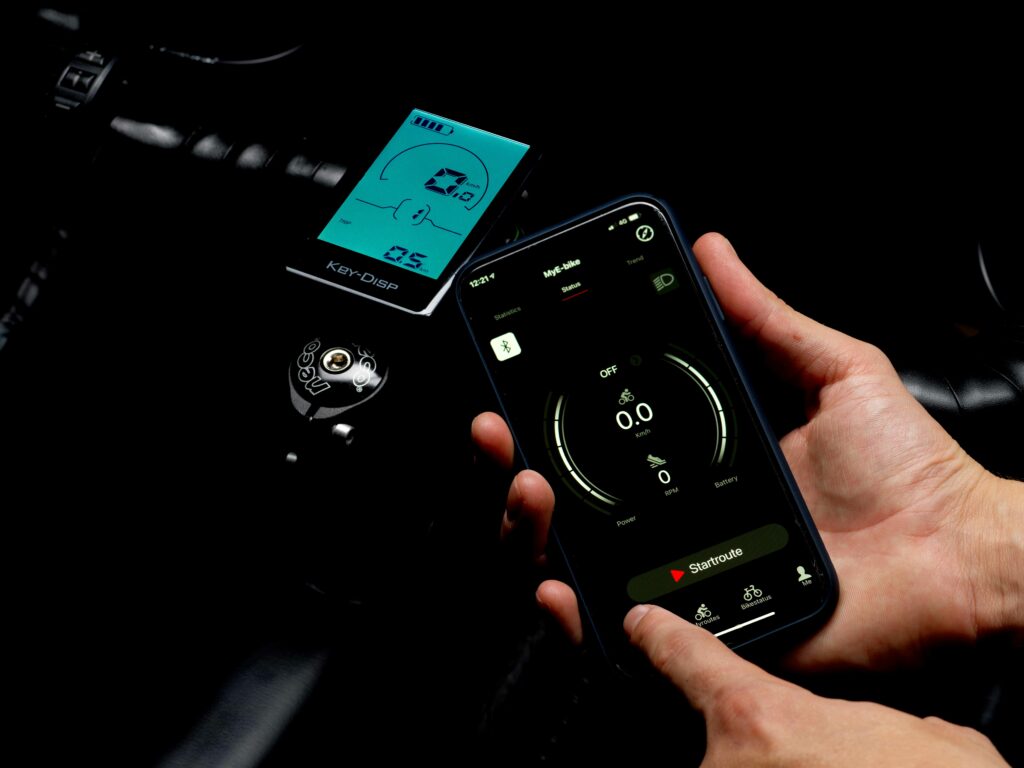 Track your performance
A good way to increase your confidence and overall biking ability is through tracking your performance. This is a great way to understand your capabilities, track your starting abilities and where you can make improvements. Another great attribute of tracking your progress is you'll gain confidence when hitting any targets you want set for yourself, in addition to seeing how far you have improved from where you first started.
You want to set yourself some easy targets when you first start out. These could be a range of different things from different routes you might want to complete to the times you want to complete them in. Here is a guide on how to set goals to get better at mountain biking.
Our Avaris mountain bike range also comes with a high-definition display where you can easily view your speed, total distance, capacity and calorie count. Therefore, you can add all this data to your targets to give you an even more in-depth view of your progress. We also offer an app to work with the bike and record this data so you can have any data information you need in the palm of your hand.
Ride as part of a group
Another easy way to build your confidence and enjoyment of mountain biking can be by riding with a group of other cyclists. If you can find other bikers within your area then it can push you further when riding since you'll want to keep up with the people you are with and they'll be there to support you through the learning process as well.
More experienced bikers will also be able to give you a more hands-on approach to learning and potentially be able to give you more in-depth tips and knowledge. Remember; they were all beginners once as well, and they may be able to tell you about their own experiences as a learner and what worked well for them whilst they were learning.
Experienced riders will often know areas fairly well and will be able to take you on routes best suited to your ability, whilst avoiding what may be too difficult. As you continue to learn, they can they alter which routes would be preferable to continue pushing you until you reach a more experienced level.
Invest in the right safety equipment
As previously mentioned, whilst riding, your number one priority is always your safety. This is why it's one of the main priorities when you begin mountain biking to invest in proper safety equipment. There is a high chance of getting severely injured whilst mountain biking due to the inconsistent terrain and the type of terrain you will be riding on. Road biking is often flat with gradual inclines and declines with the biggest threat to injury being a car. Whilst off-road can be unpredictable and the environment surrounding you is what is most likely to cause an injury. You have to understand what you're doing as well as respecting what's around you especially if the weather is behaving in an uncertain manner. As a beginner mountain bike rider some of the best equipment you can purchase includes:
Helmet – Even experienced mountain bikers will wear helmets to protect themselves. A helmet can help save you from an injury or at the very least cut the risks of an injury by half.
Knee & elbow pads – It's always best to take extra care and protect these areas when mountain biking as they are so exposed. Regardless of biking ability knee, shin and elbow pads can help you a great deal. If you need to know anymore reasons to wear knee and elbow pads when riding take a read through these stories where highly experienced bikers injured themselves.
Torch – Always better to take a torch, especially if you are out riding in the evening. You want to be aware of the environment around you at all times
If you are planning on doing new routes which might be quite far from any areas you know it is wise to either take a map or GPS with you so you know where you are at all times. Your phone can be used as a map yet, there is not always going to be a signal in rural areas for mountain biking.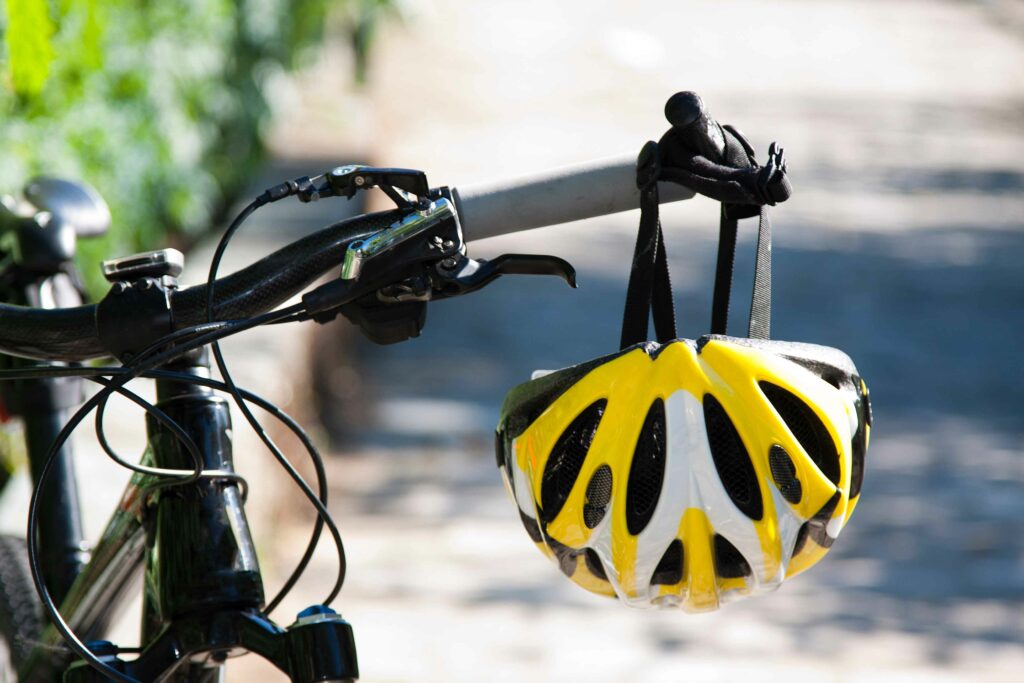 If you are interested in mountain biking take a look at our Avaris new mountain bike range available for purchase now!