How do you choose your first electric bicycle?
If you've finally come to the realisation that you would like to purchase an electric bicycle, then you've landed on the right page. It can be challenging trying to find the right electric bike for you, so we've done the hard part and singled out the key areas you should look into.
Sizing up
Before buying an electric bicycle, you can't just wake up one morning and decide you want one without giving it any real thought. There's more than meets the eye when it comes to an eBike, as there are many specifications you must look into before coming to a purchase decision. Obviously, you have the product specifications to consider, but you must be wary of the frame size too. If you choose a bike which is too small or large, then it will heavily impact your experience whilst riding the eBike.
At Avaris, our eBikes are available in either small, medium, large or extra large. Each size is tailored to meet your needs, for example, if you're 5ft 3 then we'd recommend you choose the small version of the bike. Or, if you're 6ft 2 plus then choosing the extra large option it will give you the best possible experience when riding the bike. If you're unsure where to find this information, scroll down to the size guide option on the product page. 
Requirements – road or mountain
You've now established you want an eBike, next you have another decision to make – what is the purpose of purchasing an electric bike? For clarity, if you want to ride an electric bike, you're either looking to cycle on roads or mountains, both terrains are very different from each other and the electric bike you want has got to be designed for either one of these purposes. If you plan on cycling across a flat terrain such as the road or footpath, then you will not need to choose an electric bike with high motor power. This is because you will not necessarily need much assistance compared to cycling up steep, sharp terrains.
If you are deciding to cycle the latter, then we definitely recommend you acquiring an electric bike with excellent motor power. It will provide you with the extra boost you need to reach your destination and accomplish your journey without breaking too much of a sweat!
Accessories
Now you're aware of the type of electric bikes that are available to you, the next step is to purchase accessories to go with it. Firstly, every biker must be equipped with a helmet whilst they're riding a bike. It's the first biking rule you must obey as it will protect you should you fall off your bike and hit your head on the floor. This is why it's important you buy a good quality helmet so you're guaranteed better protection compared to a cheap one. Most bike stores will sell them for good prices and offer you advice on which helmet is the best value for money. Alternatively, you can look online to see what helmets are on offer at places such as Amazon.
Furthermore, another great accessory to buy for your eBike is knee and elbow pads. This will provide you with more protection should you fall off your bike and land in an awkward position. When you're mountain biking, the knee and elbows are more exposed to rough terrain so it's essential you cover these areas with padded protection. Many experienced mountain bikers have encountered situations like this, and if you would like to hear more about their stories – click here.
Another key accessory you should invest in for your eBike is a puncture kit. Without question, if you're biking on tricky terrain you will encounter a puncture in your tyres at some point. Should this scenario ever unfold, it's best to be prepared correctly so you won't be stuck in a tricky situation. Luckily, there are plenty of puncture kits available online or at bike stores that are well-priced and small enough to fit in a backpack for easy access.
The final accessory which is an absolute necessity when you're on a bike ride is a spare battery. The big difference between a regular bike and an eBike is the latter is electrical, which means it needs a battery to charge before riding. A spare battery is an essential item you must carry with you whilst you're riding your electric bike. Here at Avaris, our Samsung 36V 10.4AH, 2600maH Battery for our Avaris 3.6 Road eBike gives you 60-80k per charge, allowing you to benefit from 5 levels of assisted riding and only takes 3-5 hours for a full charge.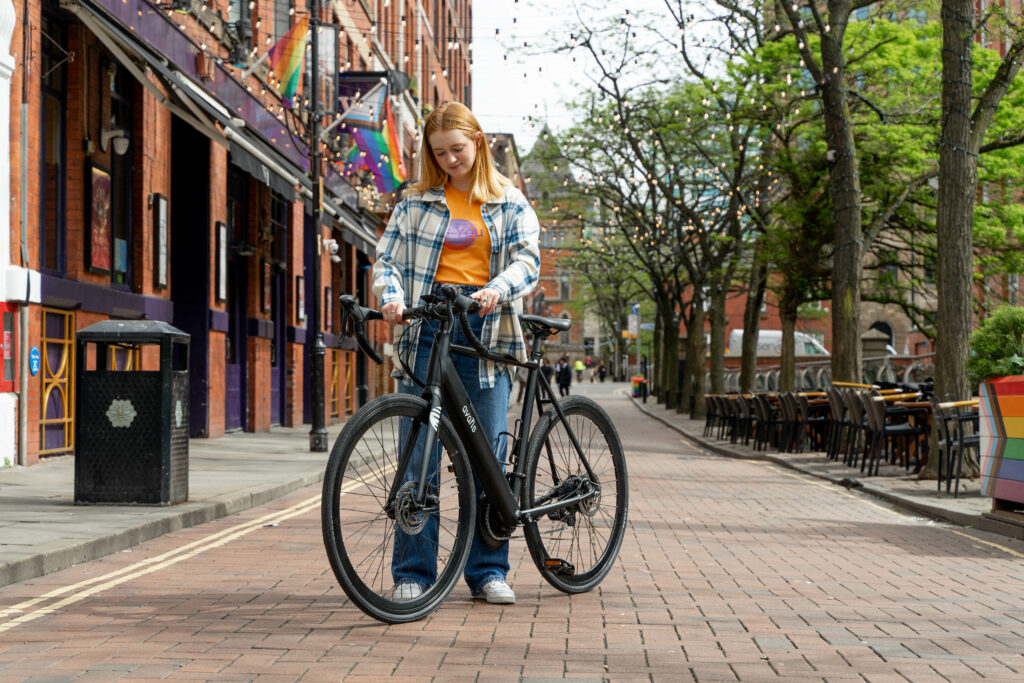 Beginner must-knows
So, you've bought the bike and accessories to go with it, and you're almost ready to head off on your first electric bike ride experience. But, before you set off into the wilderness, come back down to earth for a moment and learn the key beginner tips. Firstly, we highly recommend you begin with an easy route on your first ride. If you overdo it on your first time, it's likely this t will result in a decrease in your cycling appetite. So, don't rush to challenge an intermediate route, begin on a simple track with easy terrain to navigate around so you get a feel for it.
Also, a good way to build confidence when riding an eBike is to cycle with other cyclists. Not only will it increase the enjoyment of your cycle but they can offer you support should you need any. Whether they're experienced or at an intermediate level, they will guide you throughout the journey, so you can rest easy knowing you will be looked after. This will also be a great opportunity for you to learn from them, as they're the perfect source to sponge knowledge from which can only lead to positive results.
Another 'must-know' you need to be aware of is investing in the correct equipment. As mentioned in our previous section, we can't stress enough how important it is to carry the correct equipment with you on each of your bike rides. Without preaching too much, it could be the difference between you seriously injuring yourself or becoming stranded in an unknown location with zero mobile phone service. So, make sure you've got the best available safety equipment and you won't need to worry about the risks we've just mentioned. 
We hope you've enjoyed reading our latest article on how to choose your first electric bicycle. If you have any more questions or you're looking to purchase a high-quality eBike, get in touch with our team today!