Road eBikes vs Mountain eBikes: Which one should you choose?
Not all bikes and eBikes are created equal. Mountain bikes and road bikes are especially different as each serves a different purpose for the rider. At first glance, the bikes may only differ slightly visually, but the features and technology used on both electric road bikes and electric mountain bikes can be surprisingly different.
Differences between a mountain bike and a road bike
One of the key differences between a mountain bike and a road bike is that a road bike is made for longer distances at higher speeds and mountain bikes are built for off-road terrains and shorter distances.
The characteristics that define these differences can be found within the composition of the bike itself. For example, a mountain bike will have chunkier tyres paired with the reliable suspension to handle hills and dips better. A road bike will have thinner, sleeker tyres that are aerodynamic and less suitable for rocky off-road terrains.
You may also find that the bike frame on a road bike is positioned to allow the rider to sit flatter, and more forward on the bike. This helps the rider sit in a more comfortable position and helps improve aerodynamics whilst riding at speed.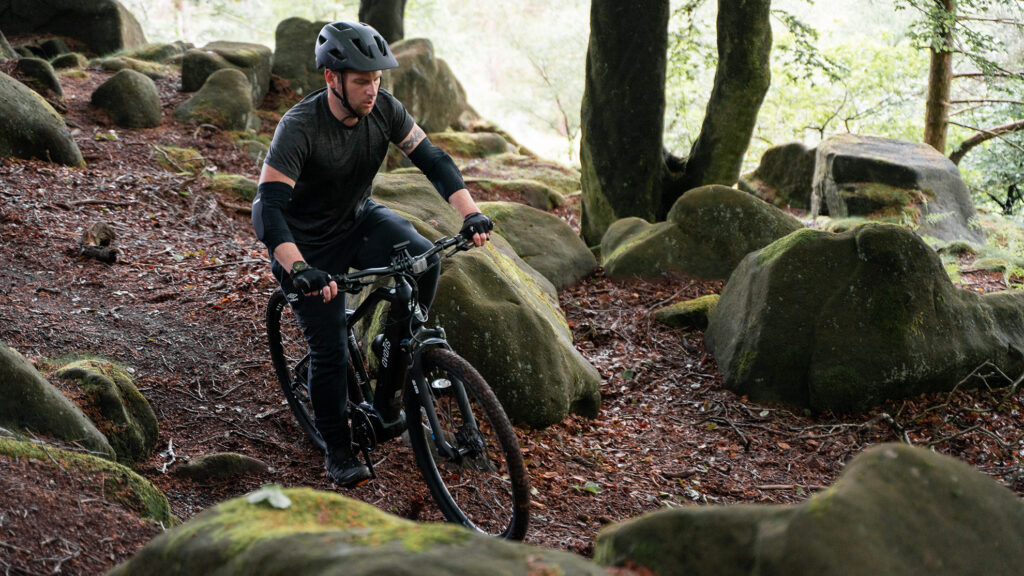 Avaris Road eBike vs Avaris Odysey Electric Mountain Bike
When comparing the Avaris 3.6 Road eBike and the Avaris Odysey eMTB you may think there isn't a great difference between the two. They both have power assistance, are both built using a sturdy and sleek aluminium alloy frame and both have an intelligent full-screen display.
But there is much more to each bike than that! Each feature and component has been thoughtfully designed and incorporated to ensure each bike is well suited to the needs of its rider.
Gear specifications
The Avaris Odysey Mountain eBike features a unique gear sensor and inline gear cable sensor that has been developed and made in the Czech Republic. This intelligent gear sensor uses technology that automatically cuts off the motor drive when the rider shifts gear.
This intuitive design makes riding at pace and tackling rough terrain easier and more instinctive. This design also eliminates noisy derailleur shifting which is caused by the chain overstraining and allows you to perform at your peak.
The Avaris 3.6 road eBike has 16 gears meaning you have more options when tackling different types of inclines and declines. Road bikes generally have much more gear ratios.
Suspension specifications
Suspension is a rider's best friend when it comes to mountain biking! The Avaris eMTB is fitted with SR Suntour X1 29" 120mm forks that are loved by millions of bike enthusiasts all over the world for their reliable and comfortable suspension. The X1 model is designed for the harsh terrain of mountain bike trails and can take on even the bumpiest of rides.
Whilst road bikes don't tend to not have suspension forks, since the design of a road bike is built for speed on roads, rather than handling different terrain types.
Assistance specifications
The Avaris Odysey Electric Mountain Bike is equipped with a powerful Bafang M400 Mid-Drive Unit which offers 5 levels of electric assistance. The Bafang M400 has a 250W rated power output with 80Nm of torque, weighing in at just 3.9kg, making it perfect for catching speed on the straights and whizzing around the corners in full control.
The Bafang drive system offers up to 180Km of assisted riding, supporting riders with steep inclines and long tours turning exhausting into manageable.
The Avaris 3.6 Road eBike is also powered by a Bafang motor. The Bafang Cassette motor gives the rider assistance across 5 levels, giving a much-needed boost on longer commutes. The Avaris Road eBike paired with the unbeatable Samsung battery gives riders up to 80K of support with just a 3-hour charge.
Display specifications
The Avaris Electric Mountain Bike is fitted with our largest and most interactive display, delivering all the important details of your ride at just a glance. The Bafang full-colour display can be synced to your mobile device using a USB connector giving you a seamless experience.
Learn more about your ride, from your average speed, total distance travelled, assistance level selected, battery power level and calorie counter.
The Avaris 3.6 Road eBike is also fitted with a large 3.5-inch display with an easy-to-use interface that is user-friendly and intuitive. The Avaris 3.6 Road eBike performs like a high-end cycling computer and tracks important information about your rides such as current and maximum speed, trip distance and remaining battery life.
Attached to the centre of your bike's handlebars, you can access this information throughout your ride quickly and easily.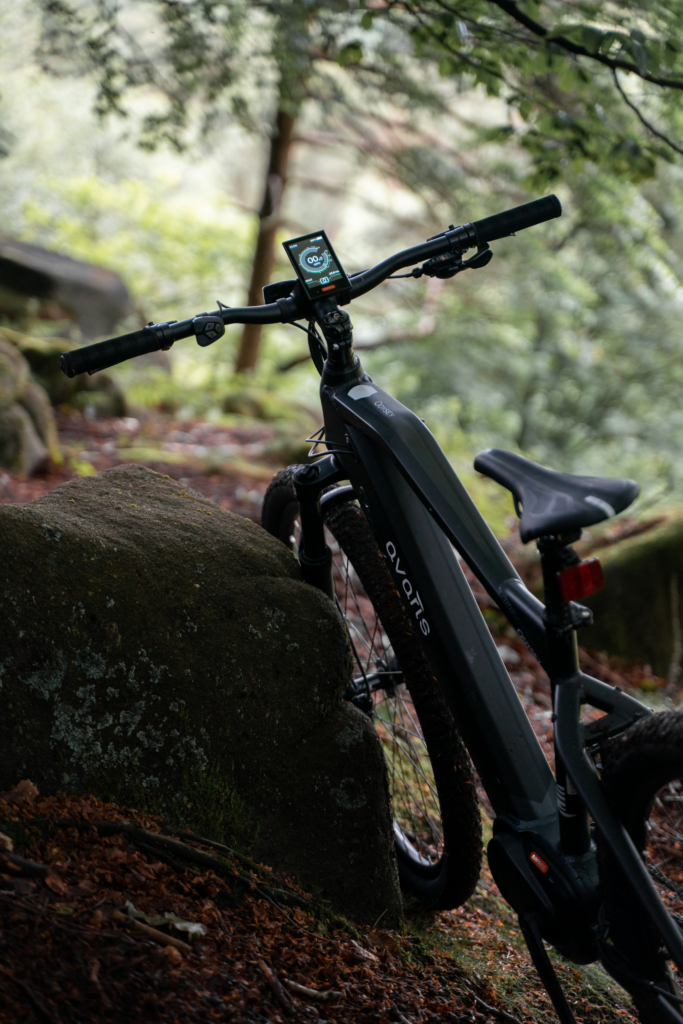 Difference between an electric mountain bike and a mountain bike
The main and most important difference between an electric mountain bike and a manual mountain bike is the motor. The motor will kick in when selected and you begin cycling, acting as your very own rocket booster to give you a speed boost to help you get up those steep inclines and stretched-out straights.
Electric assistance will help with your power and performance, allowing you to adventure for longer distances and experience new trails without overexerting yourself. But this doesn't mean you won't experience the benefit of the exercise!
Using an electrically assisted bike still gives you effective work out which benefits your cardiovascular and respiratory health, because even with the boost in speed, you still need to maintain a steady pace for the boost to kick in.
Discover the Avaris Odysey for yourself
The all-new Avaris Odysey is a powerful piece of equipment that is perfect for beginners and seasoned mountain bikers looking for adventure and adrenaline.
Learn more about the fantastic features and benefits of the bike here.