How to care for your eBike
One thing about owning an eBike is ensuring you keep it in tip-top condition to ensure a long lifespan and many exhilarating adventures!
We've put together everything you need to keep your road eBike or mountain eBike in top running order, and at the end, we even share with you how you can get 14-days free insurance courtesy of Bikmo!
The M eBike health check
If you haven't heard of the M eBike check, be prepared to learn something super helpful and easy to remember. The M check covers the most important parts of your eBike to make sure you'll be safe going from A to B.
The M check focuses on the front wheel and tire; the brakes, handlebars and the eBike display; the battery and cranks; saddle and seat post, and finally, the rear wheel, chain and gears.
Sustrans have shared a simple and informative video on how to perform the M check and the areas to focus on for each component.
Keeping your eBike clean
Don't underestimate the power of a good clean! Keeping your eBike clean and free from dirt and damp means you can avoid rust and unnecessary wear and tear, expanding the lifespan of your beloved eBike.
To clean your eBike, use a low powered pressure washer or a simple bucket and sponge and rinse with a hose. Before getting to work on the clean, check that all components are sealed and the battery is in. eBikes are water resistant (and can be safely ridden in the rain), however you want to avoid forcing water into areas that are usually sealed.
Use a chamois to remove excess water from the frame and store away in a dry location such as a garage or covered outside area. If you want to protect your eBike even further, you can invest in a bike cover and store in there!
Component wear and tear
Component wear and tear happens! This is normal and can be expected with regular use. Regularly cleaning your eBike and performing the M eBike health check mentioned above will help you recognise signs of wear and tear quicker and easier.
Should you notice any wear and tear or are concerned about a component on your eBike, get in touch with our expert eBike team. We stock spare parts and replacement components and are more than happy to help you figure out the best course of action to get you back on the road.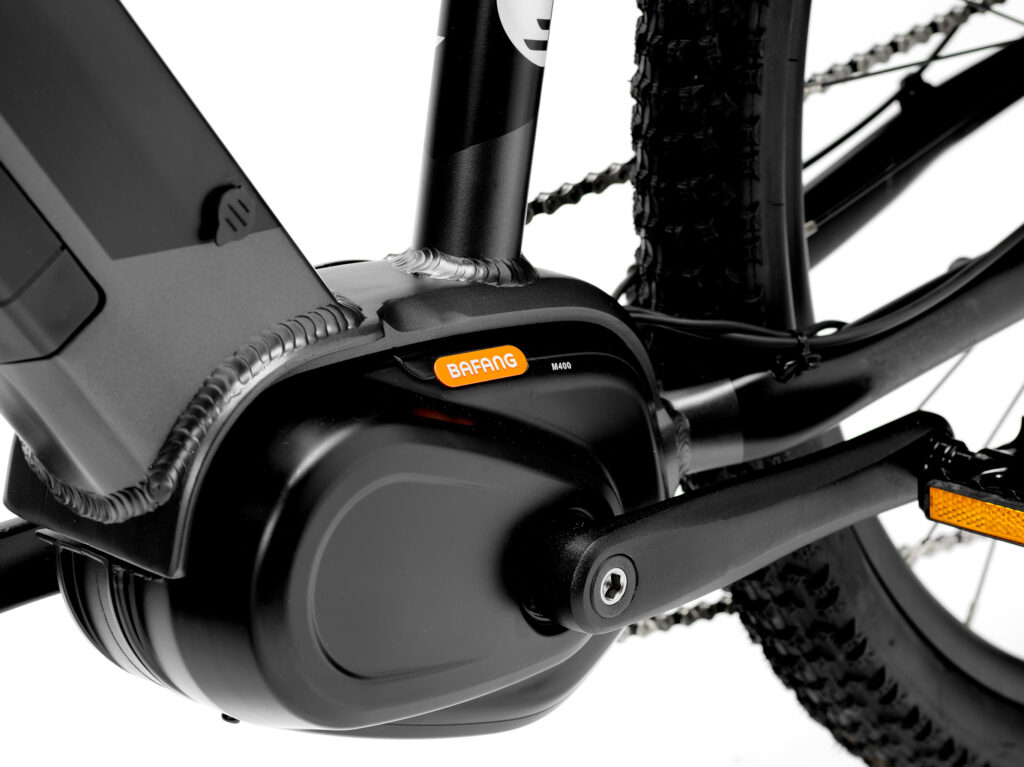 Easy eBike battery care
The battery is one of the most important components on your eBike and with proper care, it can last you a lifetime. To ensure your eBike battery is in good working order, we recommend the following eBike battery care tips.
When you first get your eBike, there may be some charge in the battery already, however we recommend fully charging the battery before setting off on your first ride. A full charge allows the battery to work to its fullest potential and it's easier to diagnose issues with the battery on a full charge, for example if the battery doesn't last as long as it should on a full charge.
And when it comes to storing your battery for long periods of time, we always suggest removing the battery from the bike and store inside the house (not in a garage or shed) as exposure to the cold for long periods of time can affect how the battery charges and runs in future.
For more advice on how to care for an eBike battery, click here.
Get your own Avaris eBike with 14-days free insurance
Did you know that when you purchase an Avaris eBike with us, you can claim 14-days free insurance courtesy of Bikmo. Simply shop the Avaris store and redeem your insurance within 7 days of your purchase to get 2 weeks worth of free cover for your eBike, so you can hop on and ride worry free!
If you've recently purchased an eBike with us and want to redeem your offer, click here and follow the instructions.