How to have a fun family bike ride
Summer is here and it's the perfect season for a family bike ride. For some families, this will be their first ride of the year, and for others, it will be their first bike ride ever!
Where children are involved, planning ahead is always a good idea. So check out our top tips for a fun family bike ride.
Safety gear for kids
You can never be too cautious when it comes to kids' safety. They seem to always make friends with the floor whenever they step outside! Always ensure your child is wearing a helmet, and make sure the helmet fits snug.
Halfords have a wide variety of children's helmets and can help you size your little one's head to ensure a proper fit. They also have a huge collection of designs, colours and character motifs to choose from so your child can rock their helmet with pride.
Optional safety gear for children can include knee and elbow protectors, and you can even get hand and wrist protectors however, this can inhibit their ability to use the break.
The most important piece of safety gear is without a doubt the helmet, so make sure your family are kitted up with a well-fitted helmet.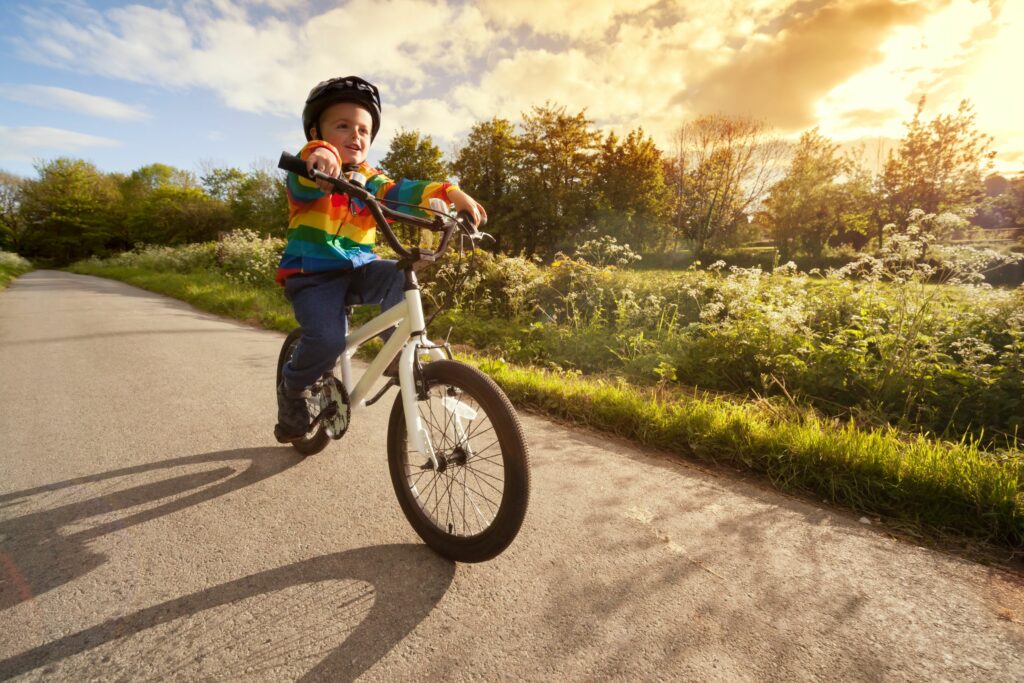 Check your children's bike size
If it's your kids' first time on their bike since last summer, make sure to check the bike is appropriately adjusted to fit their height. You might be surprised at how much your not-so-little one has grown over the last year!
Reposition their handlebars and raise the saddle so they can comfortably reach the floor whilst straddling their bike.
We recommended checking whether their bike is appropriate for them ahead of time, just in case they've somehow managed to outgrow their bike. This gives you plenty of time to replace their bike with one that will see them through the next couple of years before the big family bike ride.
Checking everyone's bikes
Before getting the family out and about, be sure to check your bike is safe for the road! Doing a full once over of all the bikes is always advised, especially on the first ride of the year. Check the wheels are turning freely and make sure all the tyres are pumped up.
We recommend you also check the bike spokes, make sure the chain is lubricated and check the brakes before you set off. Sustrans has a great guide to checking your bike.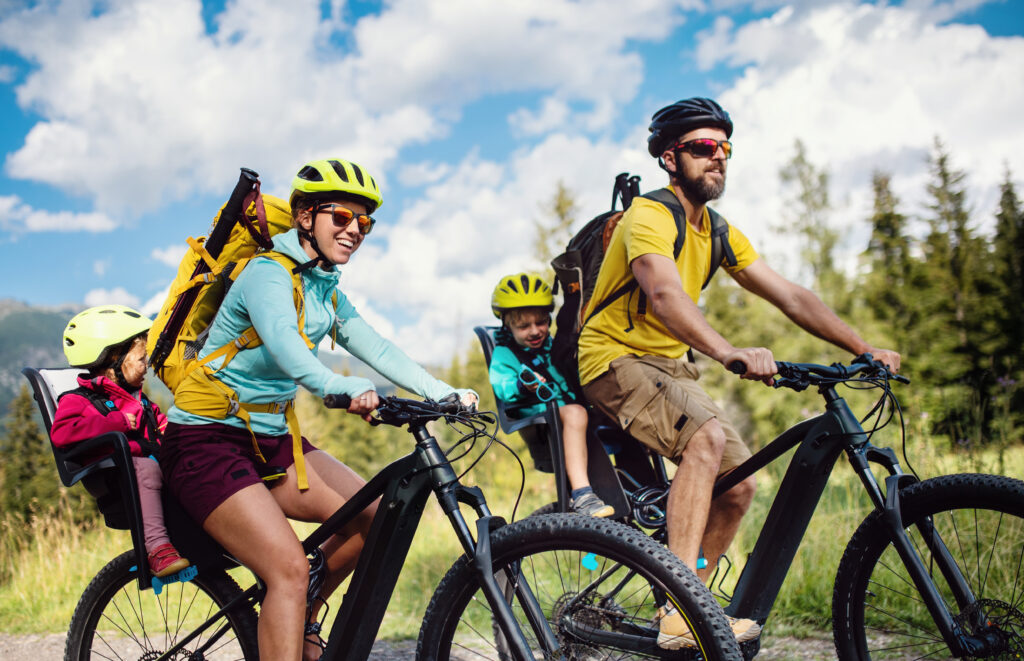 Go on a practice cycle
They say you never forget to ride a bike, but it's always best to go on a cycle around the block – just in case. Going on a practice ride beforehand gives your kids the time to regain any lost confidence when riding and gives you the opportunity to go over important road safety rules, such as how to signal when riding, where to ride and how to brake safely.
Consider also having a smaller family cycle to go over the family bike ride rules, such as how far is your little one allowed to ride ahead, what is the signal to stop or slow down and how to treat other cyclists, pedestrians or horses and animals whilst on their bike. Going over all the basics will ensure a smoother day out!
Make the first cycle of the year an easy one
If you're a regular cyclist and love an adrenaline-filled adventure, you may want to consider an easier route for your family trip – especially the first family bike ride of the year! Those who don't cycle regularly will certainly appreciate a slower, more steady route for their first ride of the year.
A cycle route with less challenging terrains will be great for the entire family. You can find local family-friendly cycling routes on the National Trust website and on Cycle Sprog.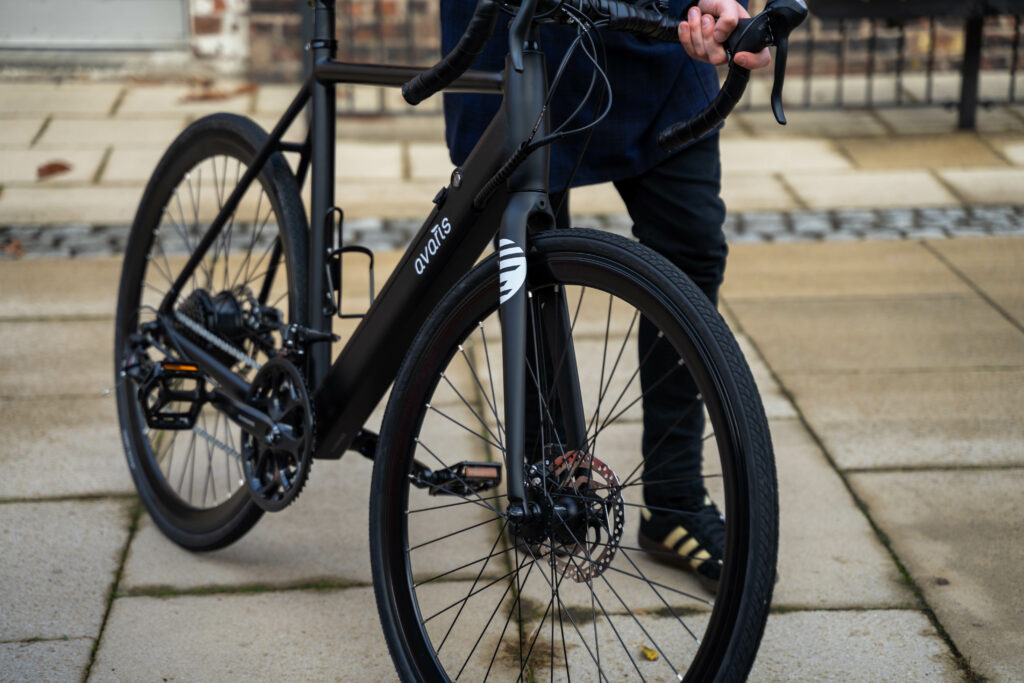 Assisted bikes so you can go further
Has it been a few months since you and your partner got onto a bike, too? Go at your own pace with an Avaris eBike. Our electric bike has 5 levels of assistance that are there to support you with your ride when you need it most. Simply begin to pedal and the assistance will kick into the level of assistance you choose. 
The Avaris 3.6 electric road bike is powered by an impressive Samsung battery that provides up to 80 kilometres with a recharge time of 3 – 5 hours. We also sell these powerful Samsung batteries on their own so you can carry a spare with you whilst on the road!
Plan a picnic and bring plenty of snacks
What could be more rewarding than a delicious picnic after a bike ride? Nothing can encourage you and the kids to push through challenging moments of a ride more than a delicious sandwich, sweet treats and juicy fruit.
Remember to pack enough to fuel up at the end of the ride, as well as snacks and water for pit stops along the way. As we all know, hydration is important, especially during hot days whilst engaging in physical activity!